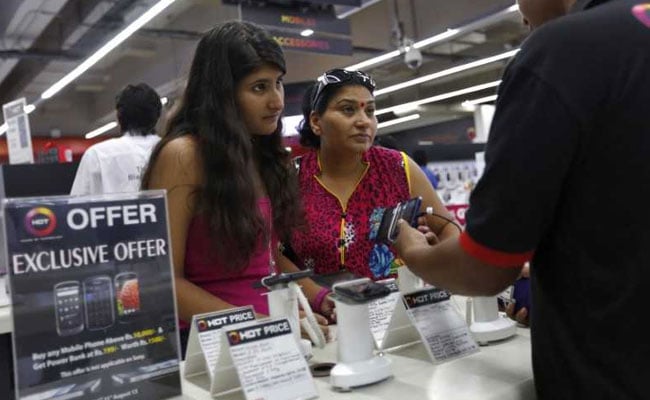 Highlights
For the full year 2017-18, GDP grew 6.7%
In 2016-17, economy has expanded at 7.1%
Economists expect India's economy to grow more than 7% in 2018-19
India retained its position as the world's fastest growing major economy in the January-March quarter, well ahead of China. India's GDP or gross domestic product growth accelerated to 7.7 per cent in the March quarter - the fastest pace of growth in seven quarters. Strong growth in agriculture (4.5 per cent), manufacturing (9.1 per cent) and construction sectors (11.5 per cent) contributed to the overall growth. Growth for Asia's third-largest economy, reported by the Ministry of Statistics, trumped forecasts in a Reuters poll for annual growth of 7.3 per cent. GDP had grown at a revised 7 per cent in October-December quarter.
For the full year (2017-18), GDP expanded at 6.7 per cent, lower than the 7.1 per cent recorded in the previous year.
Tushar Arora, senior economist at HDFC Bank, said: "Today's GDP number is very comforting and should put a lot of concerns to rest. It seems like we have moved beyond the teething troubles related to GST implementation. The pick-up in investment activity (fixed capital formation) is also a good sign."

The faster pace of growth in the latest quarter might also strengthen expectations for a rate hike by the RBI later this year. "We expect RBI to revise its policy stance in June and follow it up with a hike of 25 bps in August policy," said Garima Kapoor, economist and vice president at Elara Capital.

Many economists expect India's economy to grow more than 7 per cent in 2018-19, helped by a normal monsoon and a pickup in private investment.


Though global rating agency
Moody's earlier this week
cut its GDP growth forecast for India due to higher oil prices and tighter financial conditions, it still expects the country's GDP to expand by 7.3 per cent this fiscal year.
GDP growth in 2018-19 could get a boost from prospects of good monsoon, potentially brightening the outlook for agricultural output.
Economists also point out to many risk factors that could put downward pressure on GDP growth. Possibly, the biggest risk could be rising crude oil prices, which this month hit $80 a barrel, their highest since 2014. India meets 80 per cent of its oil needs from imports.
Domestic
prices of petrol and diesel
are near all-time highs, putting pressure on the government to bring down taxes on the fuels.
Rising oil prices could also weigh on the consumer demand, say economists. The government's Economic Survey, issued in January, estimated that every $10 per barrel rise in global oil prices cuts growth by 0.2-0.3 percentage points.
Higher crude oil prices have already hurt the rupee, which slumped to near a record low this month. It is down about 6 per cent so far this year against the US dollar.
Banking credit, a main source for corporate borrowing, has remained weak following a surge in bad loans, as banks have been reluctant to extend new loans. The 21 state lenders hold two-thirds of banking assets, and accounted for the bulk of the record $150 billion of soured loans in the banking sector in 2017.
Separately, infrastructure sector recorded a 4.7 per cent growth in April, as against 2.6 per cent a year ago, data released by government showed.