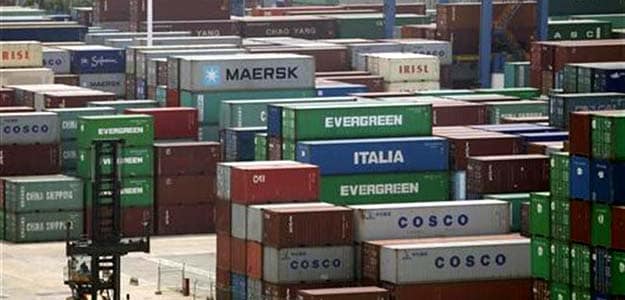 New Delhi:
India posted its second highest ever monthly trade deficit of $20 billion in January, worsening from a $17.7 billion deficit in December, piling pressure on a widening current account deficit and limiting scope for the Reserve Bank of India (RBI) to cut interest rates.

Struggling to turn around an economy that is slowing to its lowest growth rate in a decade, the RBI cut interest rates by 0.25 percentage points last month, but warned that future rate cuts would depend upon declines in both the current account deficit and inflation.

But there was little sign of any respite on the external front for Asia's third largest economy in December as a surge in imports dwarfed a slight improvement in exports.


Exports rose an annual 0.8 per cent to $25.59 billion in January, while imports rose 6 per cent to $45.58 billion, a senior trade ministry official said on Wednesday. Imports of oil, the single biggest item, rose 6.9 per cent from a year ago to $15.9 billion.
"The oil import bill is definitely a challenge, but for a growing economy, energy needs have to be met," Commerce and Industry Minister Anand Sharma said at industry conference in Mumbai.
The December trade deficit was the worst on record after the $20.9 billion gap posted in October.
Current account data for the October-December quarter will be released at the end of next month, but the deficit touched a record high in September at 5.4 per cent of GDP due to slowing exports and heavy oil and gold imports.
The RBI is worried that India's ability to fund its rising current account deficit is becoming increasingly stretched, and could lead to fresh pressure on the rupee.
"The high current account deficit is unsustainable as it can't be funded for a long time with capital flows and it will get adjusted through the exchange rate," said A. Prasanna, economist, ICICI Securities Primary Dealership. "The exchange rate will depreciate when the correction happens."
The Indian rupee struck its weakest in over a month in early January at 55.38 to the dollar, but has since recovered on capital inflows. The rupee strengthened marginally to 53.84 to the dollar after the data, as some traders had priced in an even wider trade deficit.
Exports between April and January fell 4.9 per cent to $239.7 billion, pushing the cumulative trade deficit for the first 10 months of the fiscal year to $167.2 billion, up 8 per cent on the same period a year earlier. Sluggish demand from the United States has crimped India's exports.
Samiran Chakraborty, an economist at Standard Chartered Bank in Mumbai, said the trade deficit's deterioration in January was a concern, as it would typically be expected to improve during the January-March quarter, but a surge in gold imports in anticipation of a recent import duty may have been a factor.
The government did not detail imports of gold, which is usually the second-biggest item.
On Monday, Reserve Bank of India Governor Duvvuri Subbarao reiterated concern over financing the current account deficit with volatile capital flows. Portfolio inflows into India have been robust, with $8.34 billion so far this year after inflows of $31.41 billion in the whole of 2012.
Subbarao projected a record high current account deficit for the 2012/13 fiscal year, ending in March. Many analysts expect the deficit to rise from 4.2 per cent of gross domestic product in 2011/12 to a record 4.5-5.0 per cent of GDP for 2012/13.
Copyright @ Thomson Reuters 2013