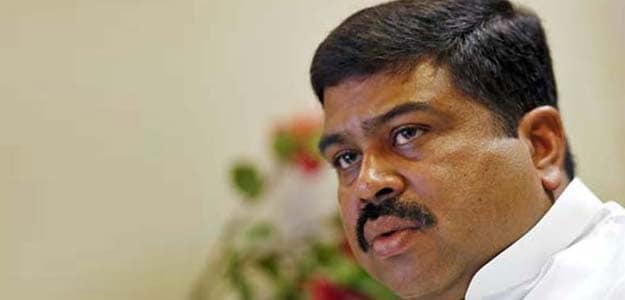 New Delhi: The government is in talks with some Gulf nations to buy oil to fill its strategic reserves and sell food in return, seeking to use its position as the world's third-largest oil importer to both secure energy supplies and boost exports.

Oil Minister Dharmendra Pradhan told reporters the idea was still fluid, but government had held preliminary conversations with the United Arab Emirates (UAE).

Prime Minister Narendra Modi and Abu Dhabi's crown prince, Sheikh Mohammed bin Zayed Al Nahyan, have discussed the issue twice, Pradhan said.

"We are discussing various models," Pradhan added.

India imports about four-fifths of its oil needs, with bulk of that supplied from the Middle East. A global supply glut has oil-rich countries there struggling to boost sales.

India is also the world's biggest rice and wheat producer after China and has large stocks of the staples.

Countries in the Middle East import food in large quantities as the region has less arable land and water.

The cost of food imports there could double to $70 billion in 20 years, as climate change hits crop yields and the population rises, an analyst at the International Center for Agricultural Research in the Dry Areas told the Thomson Reuters Foundation last year.


On February 1, rice stocks at the state-run Food Corporation of India were 16.2 million tonnes, against a target of 7.6 million tonnes. Wheat stocks totaled 20.3 million tonnes, higher than the government-set target of 13.8 million.
"They can buy food from here and store in India or in their countries; and we can buy oil from there and store in our strategic storage," Pradhan said.
Pradhan said such a deal would help Indian farmers secure a new market for their produce, mainly rice and wheat.
The mechanism envisaged by India will be different from the United Nations-designed oil-for-food programme, in which Iraq was allowed between 1996 and 2003 to sell oil in exchange for goods that met basic humanitarian needs, including food and medicines.
Pradhan said India had offered the UAE a part of its Mangalore strategic reserves to store oil. Under the arrangement being proposed by the Indians, the Gulf state would be allowed to use about a third of that oil for trade, while keeping the rest for India to use as strategic reserves.
India will complete the first phase of its strategic reserve to store 39 million barrels by May and later this year begin work on the second phase which will have a capacity to hold 91.6 million barrels, Pradhan said.
(This story has not been edited by NDTV staff and is auto-generated from a syndicated feed.)