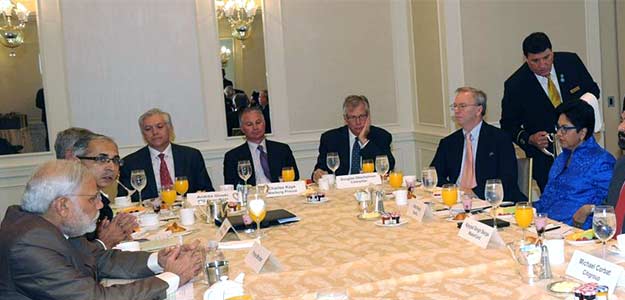 New York: Prime Minister Narendra Modi on Monday said he wants to convert the Supreme Court judgment on coal allocation into an "opportunity to move forward and clean up the past", as he wooed CEOs of large American companies to invest in India in key sectors including infrastructure.

Hosting a breakfast for 11 CEOs, including Indian-origin PepsiCo CEO Indra Nooyi, Google Chairman Eric Schmidt and Citigroup chief Michael Corbat, Mr Modi said India is open-minded and wants the change, which is "not one-sided".

Listening to concerns raised by the business leaders, Mr Modi assured them that his government will address their issues and try to make the environment in India more business-friendly.

Describing the meeting as "excellent and very good", all business leaders, including Ms Nooyi and Mr Corbat, said that the Prime Minister heard their concerns and listed out the priority areas of his government to take forward the India story to higher levels.

"(We) want to convert the Supreme Court judgment on coal allocation into an opportunity to move forward and clean up the past," Mr Modi told the CEOs.

The Supreme Court last week quashed allocation of 214 out of 218 coal blocks allotted to various companies since 1993 terming it as "fatally flawed".
Mr Modi's observation comes in the backdrop of concerns that the judgment would have an adverse impact on corporate sentiments and overall business climate.

"India is open-minded. We want change. Change that is not one sided. Am discussing with citizens, industrialists & investors," the spokesman of the Ministry of External Affairs Syed Akbaruddin tweeted, quoting Mr Modi as said at the meeting. The Prime Minister also told the business leaders that "infrastructure development is a big opportunity; it creates jobs and enhances quality of life of our citizens."


Those present at the breakfast meeting also included MasterCard CEO Ajay Banga, Cargill's President and CEO David W MacLennan, Caterpillar's Douglas Oberhelman, AES' Andres Gluski, Merck's Kenneth Frazier, Co-founder and Co-CEO of Carlyle Group David Rubenstein, Hospira's Michael Ball and Warburg Pincus' Charles Kaye.
Significantly, all companies already have considerable presence in India and their chiefs are believed to have expressed intention to further expand their engagements with the Indian government and enhance their business presence in the country.
After the meeting, Mr Banga said that the Prime Minister listed out areas like tourism, skill development and infrastructure as his key focus areas.
The over one-hour-long breakfast meet was followed by one-on-one meetings with CEOs of Boeing, KKR, BlackRock, IBM, General Electric and Goldman Sachs.
This is the first extensive business engagement in the US of the Prime Minister, who will also attend business meets in Washington tomorrow during his second leg of the five-day visit.