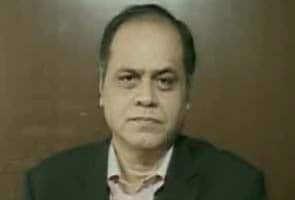 Indian stock markets have been in a strong uptrend, rising for three straight quarters. The Sensex and Nifty are trading near all-time highs on the back of optimism of economic turnaround and on strong buying by foreign investors, who have bought shares worth around $11.5 billion this year.
Ramesh S Damani, member of Bombay Stock Exchange (BSE) told NDTV today that the current bull market will last for long and this is the best phase for retail investors to be in. (Watch)
"Phase one was over on May 16, now we are entering in phase two, where public comes in, news turns more positive, earnings will start coming in. This is generally the most productive phase of market," he added.
Phase two is the best time to step in and buy some good quality business, said Mr Damani. He is specifically bullish on logistics and media space.
Mr Damani believes that there is a big e-commerce boom coming in next 5-7 years.
"Ultimately everything that is bought from an e-commerce platform has to be delivered, so logistics companies will naturally benefit from this. There are only two or three national scale players, they would tend to enjoy extraordinary pricing power," he said.
Mr Damani's stock picks:
1) National Building Construction Corporation (NBCC): This is the construction arm of the government. They get priority for constructing every project that government launches. The product mix of this company is now moving from PMC (project management) contracts to real estate which is a high-margin business. They get land from old PSUs, old government properties and develop those. Secondly, the PMC business itself is growing because the government is redeveloping lot of colonies in Delhi.
2) TV Today Network: Digitization is happening in India, which is a huge game changer for the entire media industry. It means more subscription revenue, less carriage cost. And content business will also drive its margin.
3) Ricoh India: This is a hardware manufacturing company. The mix of business is changing from pure hardware to hardware-cum-software. Their system integration business is doing well.
4) Balmer Lawrie & Co: It is fairly cheap and has given consistent dividend. 50 per cent of profits of this company come from the logistics business and that is under recognized by the market. Logistics business is almost a foolproof business for the company because the company owns container depots and land. It is like a monopoly transit for other PSUs. Over some time this company could be re-rated.