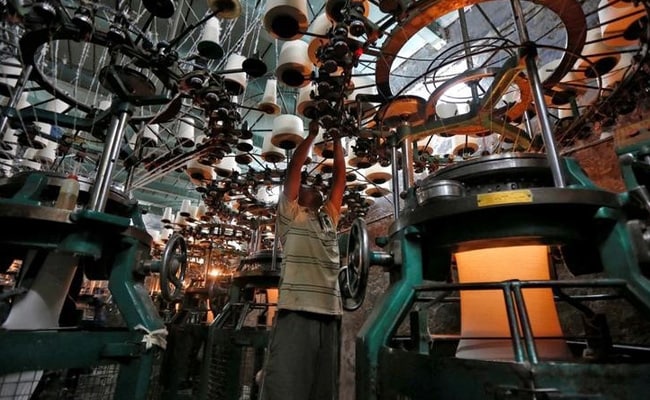 Highlights
GDP growth fell to 7% in the October-December quarter
The statistics department sees 7.1% growth for the full year
Some economists predict aftershocks of notes ban will linger for months
India defied expectations today to remain the world's fastest growing major economy, despite the notes ban and its aftershock. GDP or gross domestic product growth however fell to 7 per cent in the October-December quarter, from 7.4 in the previous quarter, with Prime Minister Narendra Modi's surprise decision on November 8 to scrap 500 and 1,000-rupee notes or around 86 per cent of the currency then in circulation, putting economic activity on the skids in a predominantly cash-reliant economy. China was number 2 with its economy growing at 6.8 per cent in the December quarter.
Here are 10 things to know:1)
"There was just a temporary impact of demonetisation, which is over now. There was an overestimation about the effect of demonetisation by some. It is satisfying to note that this was not true. We still remain a 7 per cent-plus GDP country," said
Economic Affairs Secretary Shaktikanta Das
.
2)
The central statistics office or CSO has retained its growth forecast for the fiscal year ending in March 2017 at 7.1 per cent. The December quarter GDP beat the estimates of economists; analysts polled by Reuters had forecast 6.4 per cent growth for the October-December period.
3)
The CSO's forecast for the year is higher than that of the International Monetary Fund or IMF, which has revised its estimate down for India's growth in the year ending March 31, 2017, to 6.6 per cent from 7.6 per cent earlier. But the IMF expects India's economic growth to rebound to 7.2 per cent in 2017-18.
4)
Industry bodies like the Federation of Indian Small and Medium Enterprises refused to comment on the growth projection, but maintained that they were hit by the notes ban. "The effect was two- fold - one was in carrying on our day to day activities like paying the workers, and then suddenly we found demand evaporated," said Anil Bharadwaj of the federation.
Also Read: Fiscal Deficit Breaches 2016-17 Target In January5)
Some economists predict the
aftershocks of demonetisation
will linger for months. The sale of two-wheeler vehicles, a proxy for rural demand, fell for a third straight month in January. Services activity plunged into contraction following the notes ban, and still hasn't recovered fully, while factory activity also declined in December before returning to a modest growth in January.
6)
"The GDP estimates significantly overshoot the expected figures and that's why I feel that the overall impact of demonetisation has still not been factored into these estimates. I expect the impact of demonetisation to linger on for at least another quarter or so, and based on that, I feel that the final GDP numbers would be significantly lower," said Upasna Bhardwaj, senior economist at Kotak Mahindra Bank.
Also Read: Expert Views On GDP Growth In December Quarter​7)
Today's data also backs the Reserve Bank of India or RBI's assessment, which has all along maintained that the slowdown caused by the cash ban is a transitory phenomenon and expects a sharp rebound in economic growth in the next fiscal year as cash conditions improve.
8)
The Indian economy expanded at 7.6 per cent in 2015-16 and at 7.2 per cent in 2014-15.
9)
The economy had grown at 7.2 per cent and 7.4 per cent in the first quarter (April-June) and second quarter (July-September) of 2016-17 respectively.
10) The Economic Survey, which sees the Indian economy growing between 6.75 and 7.5 per cent
in the coming fiscal year (2017-18), flagged a spike in oil prices, global trade tension and a spillover of the demonetisation as key risks to growth.