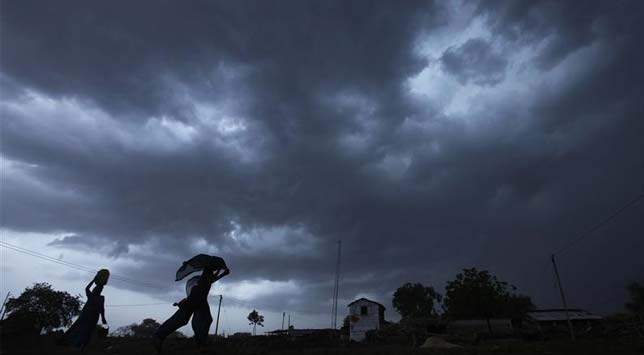 New Delhi:
India's monsoon rains are now expected to be deficient in 2012, the weather office said on Thursday, signalling the first drought in three years as the El Nino weather pattern should reduce rains in the second half of the June to September season.

The biggest casualty of a drought will be the farm sector. The contribution of agriculture to India's gross domestic product (GDP) may shrink to zero this fiscal from 2.8 per cent in 2011-12 because of monsoon deficiency, according to a report by Japanese brokerage major Nomura.

"We estimate that food grain output will contract by around 8 per cent year-on-year in FY13 (year ending March 2013) compared with growth of 5.2 per cent in FY12, because of a sharp moderation in summer crop output, dragging agriculture GDP growth to zero from 2.8%," Nomura said.

Here is the potential impact of the weak monsoons on the economy and you.


1) How bad is the monsoon situation?

Cumulative rains during June-July are 19 per cent below normal levels. The northwest, which is India's grain belt, has received 37 per cent less than normal rainfall. Rains are considered deficient—a drought in layman's terms—if they fall below 90 per cent of a 50-year average.

2) Could the rains still catch up?

A catch-up seems unlikely. The probability of an El Nino effect occurring between August 2012 and March 2013 has risen, which typically leads to lower rainfall.


3) How does 2012 compare with previous droughts and what was their impact?

India has had five severe droughts in the past 40 years. The worst were in 1972 and 2009 when the nationwide rainfall deficits were 24 per cent and 23 per cent, respectively. Rainfall was 19 per cent below normal during the droughts of 1979, 1987 and 2002. Food production declines by an average of 10 per cent year-on-year in a drought year.

4) What will be the impact on growth in FY13?

Food grain output will contract by around 8 per cent year-on-year in FY13 compared with growth of 5.2 per cent in FY12, due to a sharp moderation in summer crop output (-11 per cent), dragging agriculture GDP growth to zero from 2.8 per cent. This will hurt the overall GDP, which may grow at 5.8 per cent in FY13 against 6.5 per cent in FY12.

5) Will rural demand slump?


Rural demand may not slump, but some moderation is likely. Over the past few decades rural India has transformed, with the share of agriculture in rural GDP plummeting from 70 per cent in 1970 to just 38 per cent in 2004, while non-agriculture sectors now account for 60 per cent of rural GDP. Within the consumption basket, consumer non-durables (food, beverages and tobacco) are most at risk to a deficient rainfall.
6)
What is the inflationary impact of a bad monsoon?
Bad monsoons push food inflation up by 4-5 percentage points. The 2009 drought had a much more severe impact, pushing food inflation higher by almost 10 percentage points, with the monthly primary food inflation rate climbing from 8.7 per cent year-on-year in April 2009 to 21 per cent by March 2010. The headline WPI inflation may average well over 7 per cent in FY13.
7)
How does a bad monsoon affect the twin (fiscal and current account) deficits?
During the 2009 drought, net agriculture exports fell by 0.3% of GDP as exports (of rice, spices, oil meal, sugar and meat) fell, while imports (of edible oil, pulses and sugar) surged to compensate for the fall in domestic production. On the fiscal front, rainfall deficiency will worsen the fiscal balance as a result of drought-relief measures.
8)
What will the government's response be?
Apart from drought-relief measures, open market sale of grains and financial support to states, the government can also reduce import duties and ban exports, impose stock limits on commodity traders, and impose margins on, or ban, futures trading if prices rise too sharply.
9)
How does the RBI react to a drought – boost growth or tackle inflation?
The RBI may focus more on the upside risk to food inflation and overall inflationary expectations than on the downside risk to growth. A sharp collapse in global commodity prices could give the RBI an opportunity to cut rates, but that remains an unknown. Expect policy rates to remain on hold in 2012. If food prices rise as they did in 2009, then the RBI would be forced to stay put throughout this fiscal year (ending March 2013), as inflation shoots significantly above its target.
10)
Will equity markets be affected?
Indian markets have been range bound for the past many months as economic reforms have come to a standstill and global economy has entered into an extended spell of uncertainty. Markets have already priced in a drought, but some sectors like consumer non-durables may be adversely affected.


(With inputs from Reuters and Nomura's report titled India: A poor monsoon and its impact)