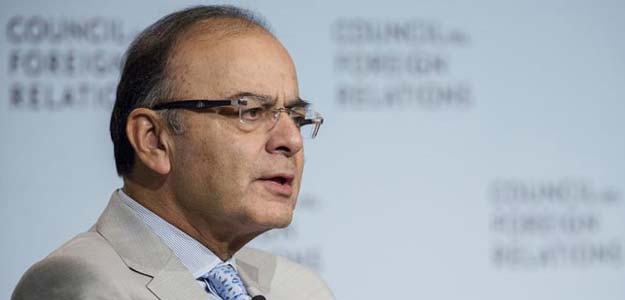 Washington: Describing India as a bright spot in an otherwise troubled global economy, Finance Minister Arun Jaitley has said that the new Indian government offers a stable, predictable and transparent policy regime, making the country an attractive destination for investors.

Having interacted with top American businesses and corporate leaders over the past five days in both New York and Washington, Mr Jaitley on Saturday told reporters the feedback he is receiving is that investors need a stable policy regime and the Indian government is committed to that.

"In otherwise troubled time of the global economy, India clearly is a bright spot. As a bright spot, our growth rates are improving. Fiscal discipline is under control," he said.

"This year we are targeting eight percent growth, which in current global situation appears to be reasonably impressive. And that is what makes us an attractive destination," he said.

Mr Jaitley, who met investors over the past few days in both New York and Washington, either on a one-to-one basis or collectively, said the meetings were an opportunity to explain to them what has happened in the past one year in terms of the reform programme and all that is in the pipeline.

"The government is fairly determined to continue this process so that it can give further boost to our economy,"

Mr Jaitley said, adding that the meetings were also an opportunity to understand how investors view India.

This would continue over the next three days, during the last leg of his visit to San Francisco, beginning today.


"There has been several game changing steps which the government of India has taken in the last one year. We opened up, we made several structural changes, the recommendation of the finance commission which we are implementing has created a huge amount of decentralisation potential," he said.
"The taxation reforms which, we are taking in reducing direct tax rates to 25 per cent, and moving on to the goods and services tax (GST) regime, is probably one of the most important taxation reforms in recent history, subsidy rationalisation and using the DBT mechanism is extremely important, transparency in government's functioning particularly in areas of natural resources has brought very important results," the minister said.
Mr Jaitley said: "It was important for us to explain to the general body of investors that we are clear about the right direction in which we are moving."
He said that the economy has achieved a macro-economic stability.
"We consolidated fiscal discipline. The continuing reform programme has restored the credibility of the economy and obviously low oil prices have helped us," the minister said.
"And as interests rates come down, with inflation under control, reform programme implemented, infrastructure investment being improved, the goods and services tax looking more likely, hopefully we should reach this year's target of growth (of eight per cent)," Mr Jaitley said.
He said: "I also carry back a message from the investors that the investors need a stable policy regime. Any form of unpredictability is never investment friendly. Therefore this interaction and outreach has been of immense utility."