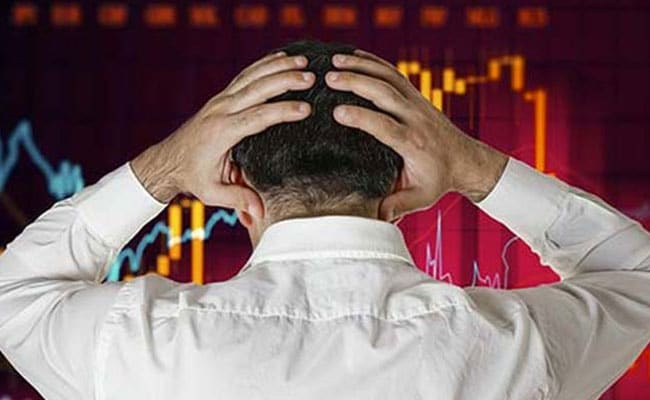 Highlights
FIIs have so far in this month sold shares worth over Rs 9,000 crore
Banking, auto, metal and real estate shares were among the worst hit
From the Nifty basket of shares, 43 ended lower while 8 closed higher
Extending its selloff to the sixth day, the Sensex fell nearly 400 points today. The six-day selloff, during which the Sensex has slumped 1,752 points, has wiped out Sensex's gain for the calendar year 2016. Continued selling by foreign institutional investors, the rupee's tumble and worries over the economic impact of the government's demonetisation move continued to hurt investor sentiment.
The Nifty ended below 8,000 levels for first time in six months, before closing at 7,929.
Foreign investors have been aggressively selling Indian shares and so far in the month of November the FIIs have sold shares worth over Rs 9,000 crore.
The rupee also came under pressure and fell to low of 68.27 per dollar on fears that the strength in the dollar and rising US bond yields since Donald Trump's win could accelerate fund outflows from emerging markets.
The government's move to withdraw higher-denomination banknotes is expected to pull down India's gross domestic product growth from last year's 7.6 per cent by as much as 400 basis points, say some analysts. Corporate operating profits are tipped to fall by as much as 40 per cent in the current quarter.
Anil Manghnani, director of Modern Shares & Stock Brokers, says if Nifty breaches 7,900 levels, then the index could hit 7,650 levels.
Banking, auto, metal, real estate and capital goods shares were among the worst hit in today's session. The Bank Nifty declined nearly 3 per cent, realty index slumped nearly 5 per cent and auto index plunged 3.25 per cent.
The broader markets also faced intense selling as the BSE mid-cap index fell 2.8 per cent and small-cap index dipped 3.2 per cent.
From the Nifty basket of shares, 43 ended lower while 8 closed higher.
Among the major Nifty loser, Bank of Baroda was the top Nifty loser, down 9 per cent to close at Rs 161.10. State Bank of India fell 6.7 per cent, Eicher Motors declined 6.6 per cent, Yes Bank nosedived 5.8 per cent and Tata Motors slumped 43.5 per cent.