Highlights
Revenues of India-based global in-house centres are close to $25 billion
They are growing at a faster pace than service providers, says Nomura
Insourcing adds to already existing challenges to growth for India IT
Nearly 1 million IT professionals are employed across more than 1,000 GIC (global in-house centres) in India, according to a report by global financial major Nomura. Over the years, many MNCs have established global in-house centres in India to leverage high skilled, low-cost talent pool to provide services for global markets. Revenues of India-based global in-house centres are close to $25 billion, says Nomura. Global in-house centres (GICs) account for nearly 25 per cent of global outsourcing spending, with India GICs capturing more than half of it and growing faster at a 12.4 per cent CAGR (vs service providers at 10.7 per cent) over the past five years, Nomura says in its report.

According to Nomura, insourcing is starting to increase, with large outsourcing customers turning substantially inwards for their IT requirements and setting up or expanding global in-house centres. Tightening visa norms in major markets like US and a change in technological landscape has been hurting the growth of Indian IT industry. Now it faces another worry: the rise of insourcing or the practice of moving IT work in-house vs outsourcing to service providers, according to global brokerage Nomura. "The India IT industry is facing a structural headwinds from having higher exposure to slower-growing legacy segments as spending shifts towards newer areas like Digital (social, mobile, analytics, cloud, security and IoT)," says Nomura, adding that "insourcing adds to already existing challenges to growth for India IT".

Over the next five years, 50 per cent of the G2000 (Forbes Global 2000) companies could shift vendor management materially to in-house centres, leading to pricing pressure for IT service providers, the report said.
Where are GICs sourcing their talent from? Here is what Nomura says in its report:
Close to two-thirds of the talent requirements of GICs are met by service provider talent.
However, most of the attrition happens to other GICs or to the industry and not to service providers.
In terms of attrition as well, our (Nomura) interaction with a captive set-up consultancy suggests that the attrition levels are nearly 5% lower at the GICs compared to service providers.
Typically, the pay scales at GICs are higher than at service providers (nearly 15-20%) and GICs hire more experienced resources and do more skill-based hiring compared to service providers.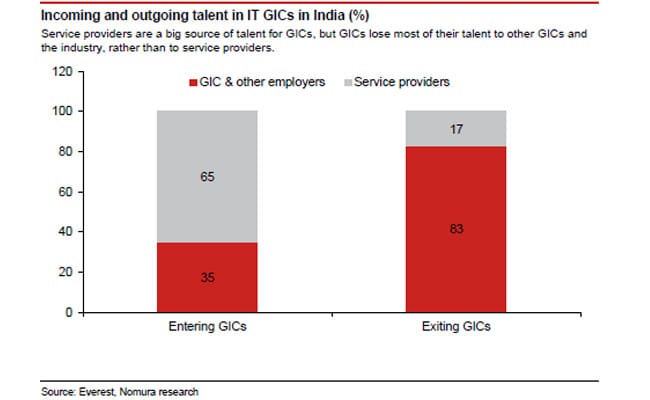 Even though a lot of GICs also do fresher hiring, the profile of fresh graduates is very different at GICs, wherein typically they are from tier 1 colleges vs across-the-board hiring by service providers.

Secondly, fresh graduates are hired to bring a fresh perspective to problem solving and not just for cost considerations

In addition to traditional sources of talent like service providers, GICs - to drive their innovation agenda - are increasing their hiring from digital-native companies (Google, Facebook, Amazon) and hiring from the industry.

Further, collaboration with start-ups is increasing across GICs with most of them participating actively in organisational initiatives or incubation programs to engage with start-ups.
Follow NDTV for latest election news and live coverage of assembly elections 2019 in Maharashtra and Haryana.
Subscribe to our YouTube channel, like us on Facebook or follow us on Twitter and Instagram for latest news and live news updates.