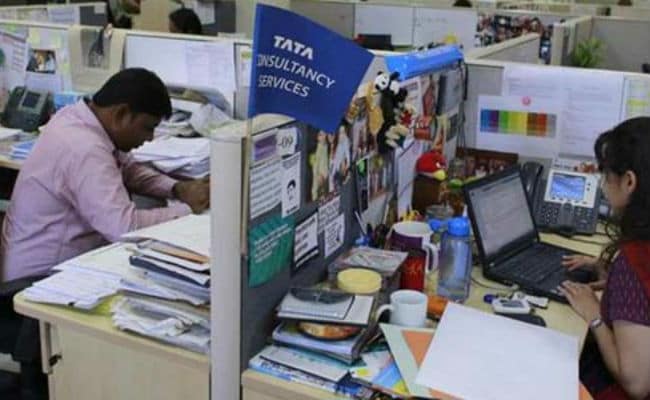 Highlights
Higher minimum salary for H-1B visas will hit margins of IT firms
US is the biggest export market for Indian IT companies
It accounts for 60% of India IT companies export revenues
In one brutal hour, shares of Indian IT companies crashed today, wiping out over Rs 50,000 crore in the market value of top companies, after a bill was introduced in the US House of Representatives calling for more than doubling the minimum salary of
H-1B visa holders
to $130,000, from the current $60,000. A sharp rise in minimum salary will make it difficult for Indian IT companies to hire employees on H-1B visas to work on projects in the US, which contributes around 60 per cent of the export revenues of the Indian IT sector.
(
Also Read: H1B Visas: 10-Point Guide To What Trump Wants To Change - And How
)
The
BSE IT index
, which is a benchmark of IT stocks, fell over 4 per cent. Shares of outsourcing giant TCS fell 5.6 per cent, Tech Mahindra 9.7 per cent, HCL Tech 6.3 per cent, Infosys 4.6 per cent and Wipro 4.23 per cent.
Indian companies have been hiring more US citizens in anticipation of
H-1B visa curbs
. But employing more US citizens will significantly raise the cost for Indian outsourcers, thus impacting their margins and overall profit.
The Indian IT industry is already battling slowing growth amid big changes in the technological landscape (like automation and artificial intelligence) and global headwinds like Brexit. (
Read
:
Indian IT sector warns against US visa bill
)
A K Prabhakar, head of research at IDBI Capital Markets & Securities, said if salary levels for H-1B visas are hiked as proposed, Indian IT companies will significantly cut down on sending employees on these work visas to the US. Only the senior-most people would be sent. However, Mr Prabhakar said, with most of the projects now on digital or cloud platforms, the need to send employees on H-1B visas will also go down.
US President Donald Trump is set to sign a new executive order aimed at overhauling programmes like the H-1B and L1 that will make it tougher for foreign workers to get work visas.
The High-Skilled Integrity and Fairness Act of 2017 introduced by California Congressman Zoe Lofgren in the US Congress proposes to remove the 'per country' cap for employment based immigrant visas so that all workers are treated more fairly and to move to a system where employers hire the most skilled workers without regard to national origin. The legislation sets aside 20 per cent of the annually allocated H-1B visas for small and start-up employers (50 or fewer employers) to ensure small businesses have an opportunity to compete for high-skilled workers, while still protecting against outsourcing
The H-1B visa is a non-immigrant visa that allows US companies to employ foreign workers in speciality occupations that require theoretical or technical expertise in specialised fields. The technology companies depend on it to hire tens of thousands of employees each year.
(With Agency Inputs)