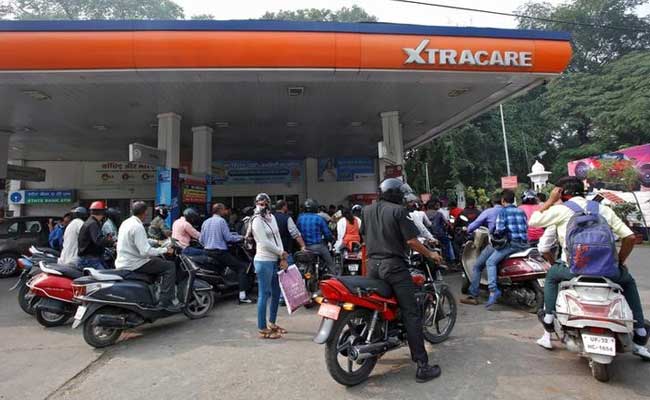 Highlights
Global oil prices near five-month lows, further below $50 level
Immediate impact of oil rate fall to be drop in imported inflation
India imports nearly three-fourth of its oil requirements
Global oil prices
fell further on Friday to five-month lows as concerns about global oversupply wiped out all of gains for this year. Brent crude futures, the international benchmark for oil prices, were at $48 per barrel after tumbling back below $50 a barrel on Thursday. Crude prices are now back to levels last seen before the Organization of the Petroleum Exporting Countries (OPEC) and other producers said they would cut output by almost 1.8 million barrels per day (bpd) during the first half of the year in a bid to tighten the market. The oil-producers' bloc had in November last year agreed on first oil output cut in eight years. This had led to a rally in oil prices but encouraged US drillers to pump more.
Both Brent and WTI futures are down around 17 per cent for the year so far despite OPEC's efforts to support prices. And many analysts, including Jayesh Mehta, country-treasurer at Bank of America Merrill Lynch, do not expect oil prices to go up in a hurry.
For the Indian economy, the crude price fall comes as a positive development. Since India imports nearly three-fourth of its oil requirements, the immediate impact would be a drop in imported inflation. For Indian consumers, a drop in global crude prices means
lower fuel prices at the pumps
. Apart from global crude prices, the value of the rupee against the dollar also determines the domestic cost of petrol and diesel at the fuel stations.
The
Reserve Bank of India
, which is largely expected to keep interest rate unchanged for quite some time, had earlier flagged inflation risks from rising crude oil prices. The RBI in its monetary policy review meet on April 6 kept the repurchase or repo rate - at which it lends to banks - unchanged at 6.25 per cent.
The central bank is expected to hold the key rate at its monetary policy review next month but may opt for a 25 basis points cut in August, says a recent report by Bank of America Merrill Lynch (BofAML). The global brokerage expects inflation to remain within the RBI's 2-6 per cent range.
India's macroeconomy will also get a boost from lower global oil prices. The external sector will continue to be strong due to a narrower trade and current account deficits, said Madan Sabnavis, chief economist at CARE Ratings.
Stock picks
Mahantesh Sabarad, head of retail research at SBICAP Securities, is positive on aviation, paint and oil marketing as well as refining companies which benefit from lower crude oil prices. However, he added that valuation in some stocks appears expensive after the recent rally and investors have to be stock-specific.
The demand for petroleum products is growing strongly and oil marketing and refining products also benefit from lower global prices, he said. Apart from strong growth in air passenger travel, a stronger rupee also benefits aviation companies as it means lower dollar-related payment, he added.