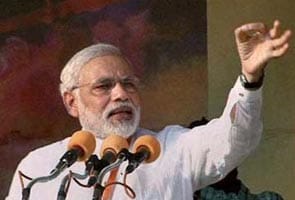 Asia-Pacific focused brokerage CLSA has said that a recent rally in the Indian markets was partially driven by the hope of a Narendra Modi victory in the next general elections. The report comes soon after Goldman Sachs drew sharp criticism from the government for suggesting that Mr Modi could win the next general elections. (Read more: Anand Sharma hits out at Goldman Sachs' report on Modi)

The Hong Kong based CLSA has also said that Indian stock markets will witness a dramatic rally if the BJP gets enough seats in Lok Sabha elections due by May to ensure "a viable majority, a prospect that was thought inconceivable a year ago."
"This is because business confidence will rise dramatically, and with it the chances of a new investment cycle. If BJP gets to between 190-200 seats on their own they will be in a strong position to form a viable coalition government," the brokerage's Christopher Wood wrote in his weekly column "Greed & fear", which reviews global markets and economies and is widely followed by investment professionals and the media.
"Whether Modi can actually deliver on these massive expectations is, of course, another matter," he added.
Mr Woods, who has batted for Mr Modi earlier too, said a test of the BJP leader's momentum will be election results in four big states which are due on December 8. He noted that "The BJP wave is apparently clear in 3 of these 4 state Assembly elections - Rajasthan, Madhya Pradesh and Chhattisgarh. The word is that Modi is profiting from the material aspirations of an estimated 150 million new young voters."
The analyst found it interesting that "Modi is reported to be drawing 6-8-times the crowds that Congress' Rahul Gandhi has been attracting in the past few days."
He did, however, warn that there is the danger of the Modi momentum peaking too soon and suggests that the worse state the economy is in, the better Mr Modi's political prospects. "Still the Gujarat chief minister should not be overly concerned since there remains no evidence of a turn in the investment cycle, and the current account deficit remains a large 5% of GDP, " Mr Woods writes.
Last week, commerce and industry minister Anand Sharma had strongly criticised global investment bank Goldman Sachs for its report titled "Modi-fying our View", which had raised its investment stance on India to 'marketweight' and said, "Current polls show Modi and the BJP as faring well in the five upcoming state elections, which are considered lead indicators for the general election next year. Even though the actual general election outcome is uncertain, the market could trade this favourably over the next 2 quarters, which argues for modifying our stance."
It described Mr Modi as more business friendly.
Mr Sharma said such reports could be "coloured, influenced and these are most inappropriate."
Goldman has stood by its report saying, "Our Asia Pacific Portfolio strategy report... contains no political bias nor any political opinion by Goldman Sachs or its analysts. It simply notes that investor sentiment is being influenced by party politics. We stand by that assertion and by our research." (Read more)