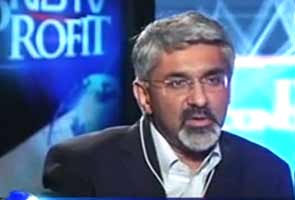 The Reserve Bank of India on Wednesday granted two preliminary licences to IDFC Ltd and Bandhan Financial Services to set up new banks. The RBI said the approval would be valid for 18 months during which the two entities will have to comply with requirements laid down by the central bank.
Speaking to NDTV Profit, Rajiv Lall, executive chairman of IDFC, informed that the new bank could be named IDFC Bank and it has the opportunity to recreate the banking paradigm in a differentiated way. (Watch)
Here is an edited transcript of the interview:
Is it time for big celebrations at IDFC?
There is no doubt that mood is upbeat here but it's premature for any celebration. Also, it's not only a question of next 18 months; this is going to be long journey so we have to pace ourselves. This is a marathon.
What do you plan to do in the near term?
For the next 18 months, the priority is basically to meet all the compliance requirement of the RBI and prepare for the launch of the bank. That entails a series of actions and steps that we need to take. There is whole bunch preparatory steps in terms of hiring, technology platform.
Have you decided on a name?
We are sort of boring kind of people, so we are inclined to just go with IDFC Bank for now.
How it plans to mobilise deposits?
It is going to be a challenge and will take a sustained effort. We are not underestimating the competitive efforts that are required but good news is that the country continues to grow and savings pool continues to expand.
Is there any strategy that you are going to follow?
It's a combination of things. I don't think there is one single magic bullet. And there will be a lot on-the-ground learning as we roll out operations. We applied for a universal banking licence, so that is what we will build. That implies diversification in both in terms of assets, liabilities but also geographical diversification.
So the question is whether glass is full or half empty? We are looking it as half full in the sense that as a new entrant today we have no legacy technology investments, we have no labour issues with no branch network and very deep pockets. We have the opportunity to recreate the banking paradigm in a differentiated way.
This is not a game for the faint hearted. This will require sustained investment and focused execution. So it's for the long haul and we are prepared for it.