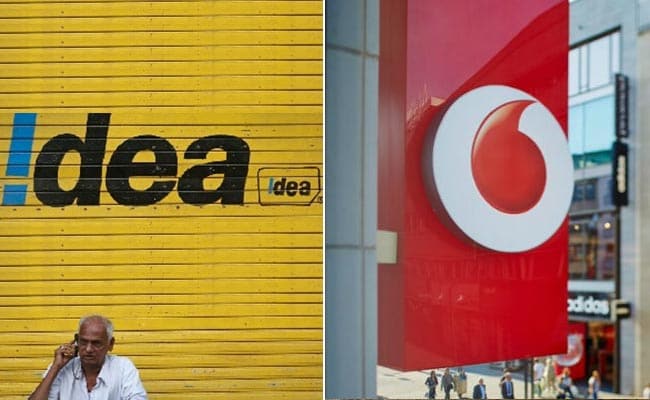 Highlights
Idea-Vodafone India merger to create India's biggest telecom operator
The combined entity will have 40 crore customers
Vodafone will own 45% in the combined entity
Idea Cellular and the Indian unit of British telecom company Vodafone today announced a merger, creating the country's largest telecom operator. The merger of Vodafone India (the second largest telecom operator in India) and Number 3 player Idea Cellular will create India's largest telecom operator with around 40 crore customers or nearly one in every three customers in the country. The combined entity of Aditya Birla group's Idea Cellular and Vodafone India will have the widest network in the country and pan-India 3G/4G footprint, the companies said in a statement. Currently, Bharti Airtel is the biggest telecom player in India. The entry of Reliance Jio has spurred a consolidation in the Indian telecom sector. Analysts say that the combined entity of Vodafone India and Idea Cellular will be in a better position to compete with Reliance Jio and Bharti Airtel.

"The landmark combination will enable the Aditya Birla Group to create a high quality digital infrastructure that will transition the Indian population towards a digital lifestyle and make the government's Digital India vision a reality," said Aditya Birla Group chairman Kumar Mangalam Birla. Vodafone and Idea expect the merger to complete next year. The deal is subject to approvals from different regulatory agencies. Mr Birla addressing a press meet after the merger announcement ruled out a major downsizing at Idea after the merger.

Here are 10 things to know about the Idea Cellular, Vodafone India merger:


1)
The board of directors of Idea Cellular at its meeting held today approved the "scheme of amalgamation of Vodafone India Limited (VIL) and its wholly owned subsidiary Vodafone Mobile Services Limited (VMSL) with the company", Idea said in a regulatory filing. Vodafone India has an annual revenue in excess of Rs 46,000 crore while Idea Cellular over Rs 36,000 crore.
2)
Vodafone will own 45.1 per cent of the merged entity, after it transfers about 4.9 per cent to promoters of Idea for Rs 3,874 crore in cash, Idea said. The deal excludes Vodafone's 42 per cent stake in telecom tower company Indus Towers.
2)
The Aditya Birla group will own 26 per cent of the entity and will have the right to acquire more shares from Vodafone under a mechanism with a view to equalising shareholdings over time.
4
) Both the companies expect synergy benefits of Rs 67,000 crore over the future.
5)
Promoters of Idea will have the sole right to appoint chairman of the merged entity while Vodafone will appoint the chief financial officer. The appointment of a chief executive officer and a chief operating officer would require the approval of both companies. Both Idea Cellular and Vodafone would get the right to nominate three board members each.
6)
The
aggressive entry of Reliance Jio
has led to a brutal price war, hurting the margins of other players and also spurring a consolidation in the sector.
Bharti Airtel
reported its lowest profit in four years in the October-December quarter while Idea Cellular posted its first-ever quarterly loss for the same period.
7
) Bharti Airtel had earlier this year announced an agreement to buy Norwegian company
Telenor's operations in six Indian states
. Reliance Communications has already entered into an agreement to merge its wireless business with rival Aircel.
8)
The
merger between Vodafone and Idea Cellular
is seen positive for the telecom sector and the combined entity. "The combined entity's operating margins will improve by around 3 percentage points due to cost synergies in networking and selling, general and administrative expenses," India Ratings said in a report.
9)
Hemant Kanawala, head of equity at Kotak Life Insurance, said he expects fierce price competition among top telecom players despite Jio beginning to charge for services from April. Customers have become habituated to low price points and telecom players can only hope for greater usage by customers, he added.
10)
Vodafone, the world's second-largest cellphone operator, has endured a tumultuous ride since it entered India in 2007, with fierce competition and a high-profile tax battle. Shares in Idea rose as much as 14.25 per cent immediately after the merger news announcement but later gave up all the gains and ended nearly 10 per cent lower. Traders said the implied deal price in the planned merger with Vodafone's Indian operations under-valued the company shares.