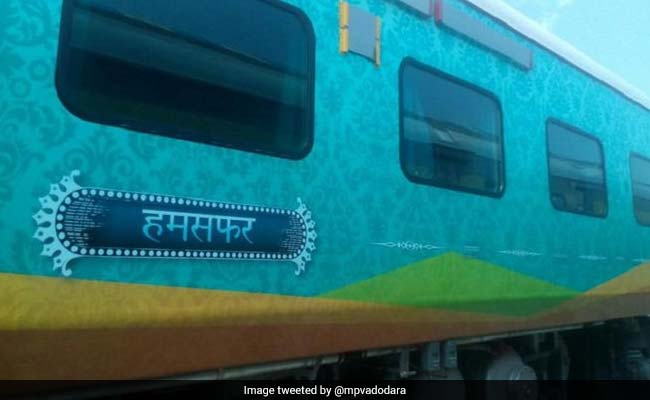 The Central Railway has introduced a super fast weekly service between Ahmedabad and Chennai under its new Humsafar Express series of trains. This weekly Humsafar Express service will cover Vadodara, Surat, Pune, Solapur, Gulbarga, Raichur and Renigunta, among other destinations, according to a press release by Central Railway dated May 3, 2017. Aimed at providing a luxurious travelling experience to the common man at affordable fares, Indian Railways' Humsafar Express trains come with 15 three-tier air-conditioned sleeper coaches with one pantry car.
Introduction of weekly Humsafar express between Ahmedabad and Chennai. Bookings is already opened.https://t.co/jUi1OQTkXg

— Ministry of Railways (@RailMinIndia) May 4, 2017
Here are some other details on the new Humsafar Express service:
Ahmedabad-Chennai Humsafar Express
The new weekly service from Ahmedabad to Chennai will be available from May 8, 2017. Train number 22920 will start from Ahmedabad, the largest city in the state of Gujarat, at 3:30 pm every Monday and reach Chennai at 10:35 pm the next day.
Chennai-Ahmedabad Humsafar Express
The reverse journey will start from May 10 this year, as per the Central Railway press release. "Train no 22919 Chennai - Ahmedabad Humsafar Express (Weekly) will leave Chennai 20.10 hrs (8:00 pm) on every Wednesday from 10.05.2017 and reach Ahmedabad at 03.15 hrs (-3:15 am) third day," it further said.
Booking
"Bookings for Train no 22920 Ahmedabad- Chennai is already opened," it added.
Stations
The weekly service - from Ahmedabad to Chennai and vice versa - will halt at Vadodara and Surat stations in Gujarat, Vasai Road, Panvel, Pune and Solapur stations in the state of Maharashtra, Gulbarga and Raichur in Karnataka, and Guntakal and Renigunta stations in Andhra Pradesh, according to the press release.
Railway Minister Suresh Prabhu on Tuesday flagged off the inaugural run of Western Railways' first Humsafar Express between Ahmedabad and Chennai. Mr Prabhu flagged off the train through video conferencing from Udvada town (district Valsad, Gujarat), a railway PRO said in a release.
Humsafar Express aims at providing a luxurious travelling experience to the common man, it said.
(With PTI inputs)