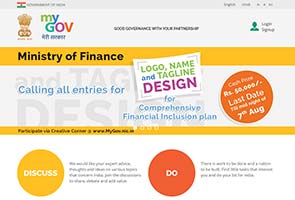 Now you have a chance to win Rs 50,000 from the government. How? The Finance Ministry is offering citizens with a creative flair, an opportunity to win the amount in cash prize.
"Finance Ministry invites designs for logo and name, tag line for their initiative to provide inclusive financial services to the people... Winning entry would be awarded a cash prize of Rs. 50,000," the Finance Ministry said.
The last date for submitting entries for the contest is August 7. To participate, one has to log on to http://mygov.nic.in/index.
"Evaluation criteria a blend of selection committee and other MyGov users, who are empowered to choose which design they appreciated best," the Finance Ministry note said.
MyGov is a citizen engagement platform enabling the people of India to contribute towards good governance by sharing their thoughts, ideas and suggestions. MyGov's Creative Corner enables various ministries to seek creative inputs issues relating to their departments, the government website says.