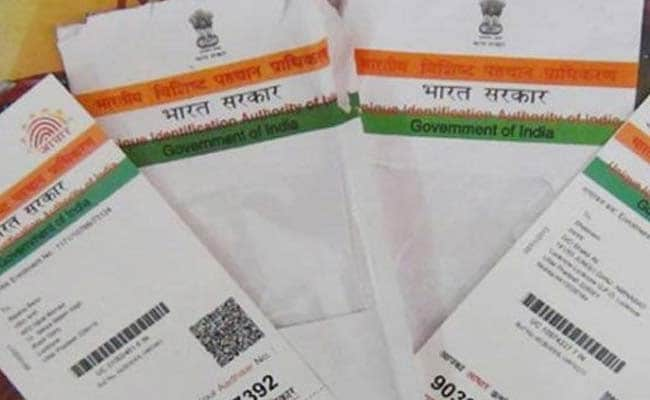 Highlights
UIDAI portal enables users to access various Aadhaar-based services
Close to 81 lakh Aadhaar numbers deactivated, says government
Over 9.5 crore individuals have linked their PAN with Aadhaar
Aadhaar is a prerequisite for many important tasks according to latest rules. From filing your income tax return (ITR) to submitting an application to obtain PAN (Permanent Account Number), quoting of Aadhaar - the 12-digit identity number issued by the UIDAI or Unique Identification Authority of India - is now mandatory. More than 9.5 crore individuals have linked their PAN with Aadhaar, the government has said. Amid all this, it is paramount for individuals to check the validity of their Aadhaar numbers.
Meanwhile, the UIDAI has deactivated close to 81 lakh Aadhaar numbers, Minister of State for Electronics and IT P P Chaudhary had said in August. "Till date, approximately 81 lakh Aadhaar numbers have been deactivated. The state-, year- and reason-wise data is not maintained by the UIDAI," Mr Chaudhary had said in Rajya Sabha. Union Minister Ravi Shankar Prasad said on microblogging site Twitter during the same month that more than 9.5 crore people had linked their PAN with Aadhaar.
How to check if Aadhaar active or valid
The UIDAI has provided online tools to check Aadhaar status through its portal, called the UIDAI Resident Portal - resident.uidai.gov.in. This website is "an online window for the resident of India to access various Aadhaar-based services and information in a hassle free and quickest possible way", the UIDAI noted.
Among these tools is the 'Verify Aadhaar Number' facility, which can be accessed by a
link
given by the UIDAI.
This link can also be accessed by visiting the UIDAI website homepage, spotting and clicking on the ''Verify Aadhaar Number ' option.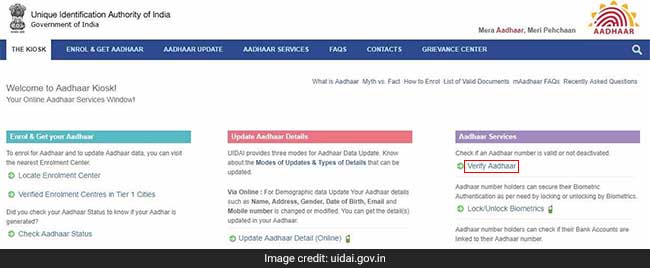 (The image above highlights the 'Verify Aadhaar' link on the UIDAI website)
Once on the 'Verify Aadhaar Number' page, enter the details as specified against the given fields. In the second field, called 'Enter Security Code', fill in the code as displayed in the image and push 'Verify'.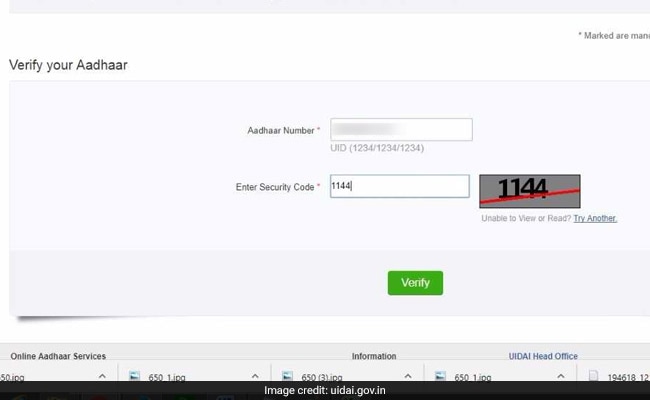 (The portal accepts Aadhaar number and Security Code from the user end)
For active Aadhaar numbers, the next page will display a message confirming the status of the Aadhaar number entered.
On completion of the verification process, the tool displays the last three digit of the mobile number registered with the Aadhaar database and the age range of the bearer, among other details.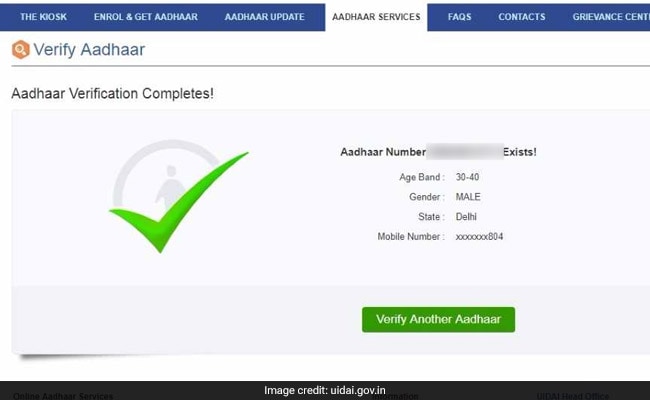 (The portal displays relevant information at the end of the verification process)
In case of invalid Aadhaar numbers, the page says the number "doesn't exist" at the end of the verification process.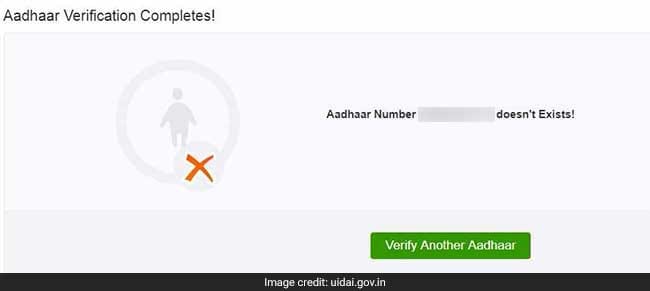 (The message shown in the image above indicates an invalid Aadhaar number)