If you haven't linked your
Aadhaar
with PAN (Permanent Account Number) already, you can do so this month. Linking of PAN with Aadhaar is necessary for processing of income tax returns (ITRs) filed this year for financial year 2016-17. This means that if you have already filed your income tax return by the deadline of August 5, you still need to link your Aadhaar with PAN. The government has announced a deadline of
August 31
, 2017 for linking Aadhaar with PAN. It has time and again asked assessees to carry out Aadhaar-PAN linking and also explained
why it is important
to do so.
Growth in ITRs filed by Individuals is 25.3% with 2.79 crore ITRs having been received upto 05.08.2017.

— Income Tax India (@IncomeTaxIndia) August 7, 2017
How to link Aadhaar with PAN
Through income tax e-filing website
A facility available on the Income Tax Department's e-filing website -
incometaxIndiaefiling.gov.in
- enables assessees with identical names given on Aadhaar and PAN as well as those with a minor mismatch to link the two identities.
The taxman has outlined steps to carry out this task through the portal: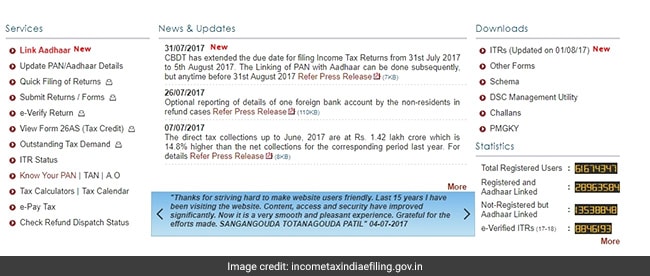 Once on the income tax e-filing website, click on the 'Link Aadhaar' option on the left hand side.
Enter your PAN, Aadhaar and name given on the Aadhaar Card. The name detail to be filled in this step is case sensitive.
Click on 'Link Aadhaar' button to proceed.
An OTP or one-time-password will be sent to the mobile number registered with Aadhaar.
SMS
For all taxpayers whose name given in the Aadhaar card and PAN card are identical, a simple SMS-based facility is provided to achieve the linking. Such assessees need to send an SMS to 567678 or 56161 in the format: UIDPAN<12-digit Aadhaar><10-digit PAN>
For example: UIDPAN 111122223333 AAAPA9999Q
However, in case of assessees whose names given in the Aadhaar and PAN cards have a "minor mismatch", according to the Income Tax Department, the linking can be achieved using an online facility.
Give Aadhaar in PAN application form
Aadhaar can also be seeded into the PAN database by quoting the biometrics-based identity number in the PAN application form - for allotment of a new PAN or for reprint of PAN card, the taxman has said.
More than
11.44 lakh PANs
have been deleted or de-activated in cases where multiple PANs were found allotted to one person as on July 27, Parliament was informed earlier this month.
How you can check whether your PAN is active:
Go to the Income Tax Department's e-filing website.
Spot and click on the 'Know Your Pan' option on the left side panel.
On the next page, fill up your details carefully. You need to enter details such as name, status (individual, Hindu Undivided Family etc.), date of birth and phone number.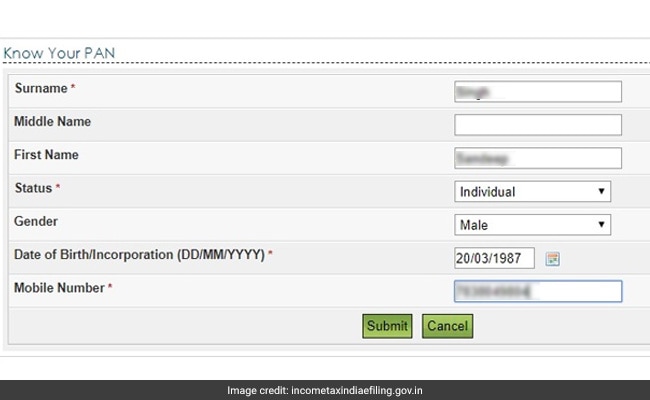 Be careful while entering your details on the Income Tax E-Filing website and double-checking is advisable, say financial planners.
Click submit.
On the next page, enter the OTP or one-time password received on your registered mobile number and hit 'Validate'.

"There are multiple records for this query. Please provide additional information," a notification appears on the Income Tax E-Filing website in at least some cases.
Fill in the required details again and click 'Submit'.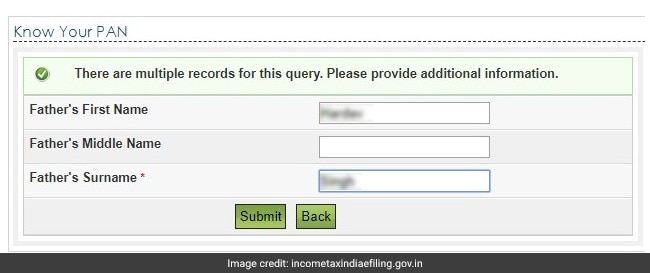 On the next page, if the PAN number is not duplicated it will be indicated as 'Active' under the 'Remarks' column.
Meanwhile,
direct tax collections jumped
19 per cent in the first four months of the current fiscal year - April-July - to Rs 1.90 lakh crore. The number of income tax returns (ITRs) filed by individuals was up 25.3 per cent at 2.79 crore.