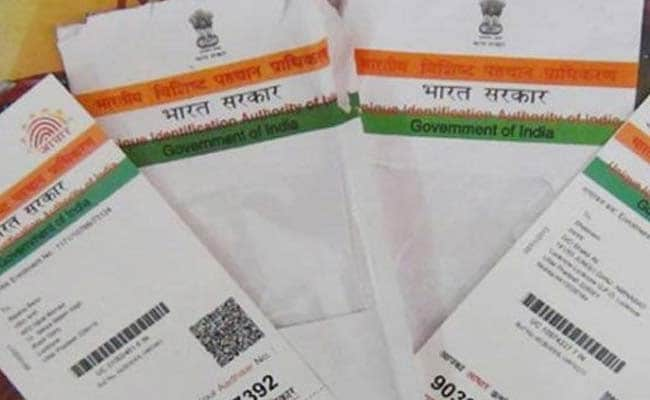 March 31 is the last date to seed your PAN or Permanent Account Number into your Aadhaar card. The government had in December last year extended till March 31 the deadline for income tax taxpayers to link their PAN card with Aadhaar card. Previously, the deadline for compulsory linking of Aadhaar card with PAN was December 31, 2017. The Central Board of Direct Taxes or CBDT - the apex policy-making body of the Income Tax Department - had cited some taxpayers who hadn't completed the linking process behind the move. Linking of Aadhaar card with PAN promotes "easier and quicker ITR (income tax return) filing" for the taxpayers, the UIDAI or Unique Identification Authority of India has said on microblogging site Twitter.
(Read: What Is UIDAI's Blue Coloured New Aadhaar Card? All You Need To Know | What UIDAI Said On Sharing Of Aadhaar Card Number)

By now, you might have attempted to link your PAN with Aadhaar. But how to check whether your PAN is already seeded into the Aadhaar system?

Here are some ways to check the status of your Aadhaar-PAN linking:

Online through income tax e-filing website - incometaxindiaefiling.gov.in

Once on the Income Tax Department's e-filing website, find a link called 'Link Aadhaar' and click on it.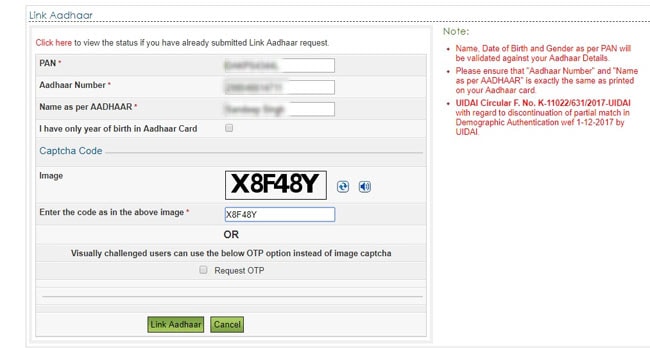 On the given form in the next page, proceed by clicking 'Link Aadhaar' after filling in the necessary details, including the PAN number and the Aadhaar number.

For the PANs not registered with the income tax e-filing website, a message on the next page confirms the status of its linking with Aadhaar card. Those individuals who have already registered their PAN with the income tax e-filing website are required to log in.




In such a case, login using your User ID and password.

Select 'Link Aadhaar' under the 'Profile Settings' section.



In case the PAN-Aadhaar linking is already done, a message confirming the same is displayed on the next page.
Through Income Tax Department's SMS facility
The Income Tax Department provides an SMS-based facility to link Aadhaar with PAN.
The user is required to send an SMS to 567678 or 56161 in the following format:
UIDPAN<12-digit Aadhaar><10-digit PAN>
For example: UIDPAN 111122223333 AAAPA9999Q
For individuals whose Aadhaar is already linked with PAN, the service responds by confirming the same. "Aadhaar...is already associated with PAN...in ITD Database. Thank you for using our services," the SMS reads.
Meanwhile, if you have linked your PAN with Aadhaar, you can submit your income tax return online for verification via an Aadhaar OTP (One-Time Password), according to the UIDAI. "You can use Aadhaar based digital signature and complete the process in a few minutes," explains the UIDAI - the issuer of the 12-digit Unique Identity Number as well as Aadhaar card. For such users, there is no need to send their ITR for verification via mail physically.