With the onset of festive season, SpiceJet has announced 'Fly for free' offer. Under this scheme, a passenger can redeem the entire ticket amount at SpiceStyle, the carrier's e-commerce portal. Passengers will receive a voucher code on their registered ID that can be redeemed. Only one voucher can be availed per transaction. The 'Fly for free' offer is valid until December 31, 2017, the official website of SpiceJet (spiceJet.com) said. The travel period starts on December 1 this year and ends on March 31, 2018.
How to avail SpiceJet Fly for Free offer
Step 1:
For availing SpiceJet's 'Fly for Free' offer, passengers can book a flight ticket on the official website of SpiceJet-spicejet.com.
Step 2:
After booking, passengers will receive a confirmation e-mail with PNR details and voucher code worth the ticket amount on the registered ID.
Step 3:
After this passengers can log on to spicestyle.com to redeem the voucher.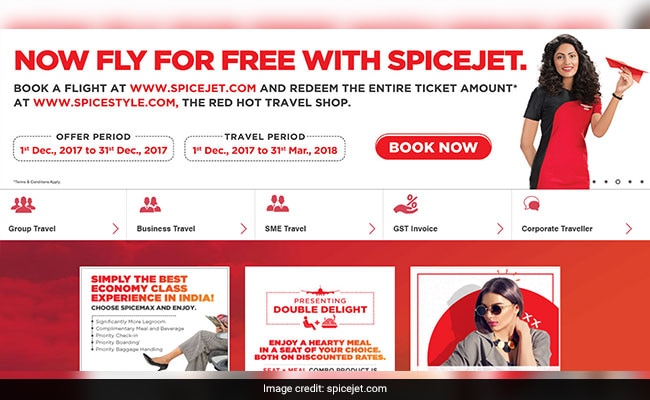 Terms and conditions for availing SpiceJet Fly for Free offer
According to SpiceJet, there are certain terms and conditions which the passenger must know in order to avail the scheme.
1. SpiceStyle voucher can be availed only via booking made through spicejet.com.
2. Only one voucher will be issued against one PNR, said spicejet.com.
3. The value of the voucher will be equivalent to the ticket value.
4. The voucher can be availed on all products listed on www.spicestyle.com.
5. The voucher can be utilised by customer only after uploading the same into his account in spicestyle.com.
6. The voucher will only be valid till March 31, 2018.
7. The customer can avail only up to 30 per cent of shopping cart value from the voucher value in a single transaction.
8. The vouchers cannot be used together with any other special offer/ promo, unless otherwise stated specifically.