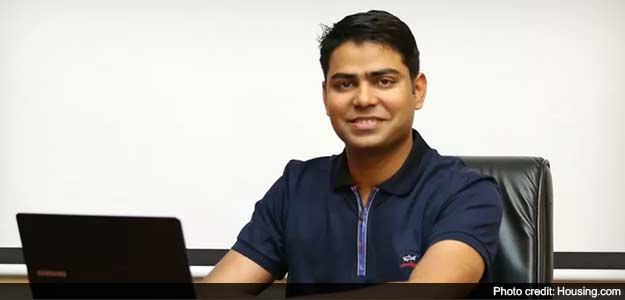 Rahul Yadav, the controversial CEO of Housing.com, has reportedly resigned from the online real estate start-up, he founded with a bunch of IIT Bombay graduates in June 2012. Housing.com shot to prominence in late 2014, when Japanese major SoftBank pumped in $90 million (Rs 550 crore) in to the start-up, valuing the company at Rs 1,500 crore.

26-year-old Mr Yadav, who has been in the news for all the wrong reasons lately, is believed to have written a sarcastic resignation letter, saying Housing.com board members and investors were not "intellectually capable enough to have any sensible discussion anymore."

The company's board consists of Mr Yadav, COO and co-founder Advitiya Sharma, SoftBank's Nikesh Arora, Helion Venture Partners' Ashish Gupta and Nexus Venture Partners' Suvir Sujan. Mr Arora, however, had resigned from the board some time back.

SoftBank has around 30 per cent stake in Housing.com; other investors include Falcon Edge, Nexus Venture Partners and Qualcomm Ventures.

Mr Yadav reportedly gave the company a notice of just 7 days for the management transition. Here's the complete text of Mr Yadav's resignation letter posted on Twitter.

IIT brat Housing dot com CEO's resignation letter. And you ask why don't we have an Elon musk pic.twitter.com/eJjYU194d8

— Gabbbar (@GabbbarSingh) May 5, 2015
Controversies

Mr Yadav, a fourth year dropout from IIT Bombay, was seen to be brash and was accused of burning too much cash, while running Housing.com. More recently, he got involved in a legal fight with the Times Group, which runs magicbricks.com, an online realty portal that competes with housing.com.

Earlier in March 2015, Mr Yadav wrote an email to Shailendra Singh of Sequoia Capital India, accusing him of doing "inhuman and unethical things". Sequoia Capital, a US-based venture capital firm, has invested in many Indian start-ups such as Ola and Car Dekho. It is not an investor in Housing.com.

Reactions

Mr Yadav's resignation is being used by many analysts to showcase the dangers surrounding India's new breed of start-ups. Analysts say domestic start-ups represent a bubble because they continue to get better valuations and higher funding despite reporting negligible revenues and huge losses. According to media reports, Locon Solutions - the company that owns Housing.com - made a loss of about Rs 49 crore on revenue of Rs 1.9 crore for the year ended March 2014.

Noted columnist Debashis Basu tweeted, "Worth framing: Resignation letter of Rahul Yadav of @Housing which has been blowing up money like dotcoms of 1999-2000."

"This Rahul Yadav #Housing saga is the beginning of the end of investors' the great IIT-B gold rush. Brace for impact," Kanchan Kumar, an entrepreneur, said in another tweet.

However, Mr Yadav also received some support on Twitter from the likes of Rehan Yar Khan, considered to be one of India's most prolific angel investors.
"I personally think under Rahul's leadership Housing built an amazing product, raised tons of money and built an effective brand," Mr Khan tweeted.
@nextbigwhat I personally think under Rahuls leadership Housing built an amazing product, raised tons of money and built an effective brand

— Rehan Yar Khan (@rehanyarkhan) May 5, 2015