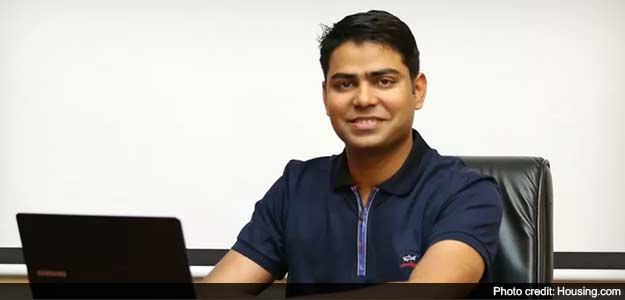 Rahul Yadav, the 26-year-old CEO of online real estate start-up Housing.com, doesn't want to be out of news, it seems. Hours after he allotted his personal equity worth Rs 150 crore to Rs 200 crore to Housing.com employees, Mr Yadav tagged two fellow IITians in a Facebook post, challenging them to follow his "noble" act.
"Now I challenge Deepinder Goyal of Zomato and Bhavish Aggarwal of Olacabs to continue this noble act and give away HALF (not full) OF THEIR SHARES to their employees. And I hope both of them spread the nominations further," Mr Yadav wrote on his Facebook wall.
Mr Goyal, a 2005 graduate from IIT Delhi and Mr Aggarwal, an alumnus of IIT Bombay from 2008 batch, run very successful start-ups. Mr Yadav dropped out of IIT Bombay in his final year of engineering to start housing.com, a real estate website that's considered a start-up success in India.
His decision to surrender Housing.com shares will make his employees considerably richer. They are likely to get approximately 1 year of their annual salaries worth of Housing stocks, a move that has raised Mr Yadav to cult status in the start-up community. (
Read more
)
(
Read
:
Why Rahul Yadav's decision to surrender Housing shares has analysts worried
)
His Facebook post, asking others to follow suit, has already been liked by 1,625 people and shared by 239 people by Friday afternoon. It also drew a response from Mr Goyal and Mr Aggarwal. (
See
)
Mr Yadav has generated a fair share of controversy over the last couple of months. In April, he attacked the board of Housing.com in his resignation letter, but days later apologized and withdrew his resignation in a dramatic U-turn. (
Read full story
)
In March, his email to Shailendra Singh, the head of venture capital firm Sequoia, was leaked on social media. The housing.com CEO accused Sequoia of unethical practices allegedly rooted in poaching.
Mr Yadav sent a separate email to Housing employees in March with allegations against the Times group which resulted in a defamation notice (rival real estate ecommerce firm magicbricks.com is owned by the Times Group).