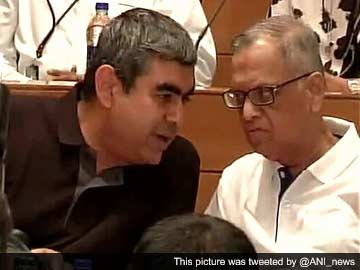 Infosys CEO-designate Vishal Sikka is inheriting a company that is struggling with revenue growth and facing employee dissatisfaction, but he will not have the comfort of having founder NR Narayana Murthy around at a crucial juncture.
(Read: Who is Vishal Sikka?)

Mr Murthy, who returned from retirement last year to lead an ailing Infosys, will step down as executive chairman on June 14, the day when Dr Sikka will be appointed on Infosys board.
He will continue in his role as non-executive chairman till October 10 after which he will assume the role of chairman emeritus.
(See:Who said what on Vishal Sikka's appointment)

Clarifying about his future role, Mr Murthy today said, "The title of chairman emeritus is just recognition" and "other than the title I have no responsibility, authority and obligation at all to Infosys."
(See: 'Vishal Sikka Means Lots of Money': Narayana Murthy on New Infy CEO)

Mr Sikka in jest replied that "I hope that you take our phone calls and help us when we need your help."

"This man is a pioneer of the industry and the country and it is an incredible honour for us to count on him as a mentor. We look forward to look forward to his guidance," he added.


However, Mr Murthy was in no mood to oblige. He replied: "My NDA (non-disclosure agreement) comes to an ends on June 14. No officer of the company can discuss with me any matter that has implications for stock exchanges."
I hope to catch up with Infosys results and happenings on television like I did between 2011 and 2013, Mr Murthy said.
Mr Murthy is leaving behind a mixed legacy, analysts say. During his one-year term, Infosys managed to increase its margins and also started winning big contracts, but the company has lost several high-ranking executives in the run-up to Mr Sikka's appointment as the CEO.