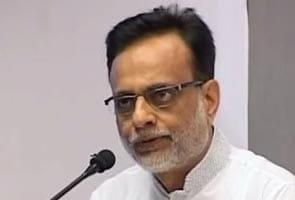 New Delhi:
Government is hopeful of companies taking advantage of the dispute resolution scheme announced in the Budget today to resolve cases emanating from retrospective amendment of tax laws including Vodafone and Cairn.
To provide a stable and predictable taxation regime, Finance Minister Arun Jaitley in Budget 2016-17 came out with a 'Direct Tax Dispute Resolution Scheme' to resolve cases pending in any Court, Tribunal, Arbitration or mediation under the Bilateral Investment Protection Agreement (BIPA).
"As per the existing law, these companies (Vodafone and Cairn Energy) are liable to pay everything, including principal tax, interest and penalty.
"... Now they can simply pay off principal amount and entire interest and penalty can be waived off. As you know we have few cases of this nature," Revenue Secretary Hasmukh Adhia told reporters.
Experts said this is a big step towards tax reform and will act as a breather for companies like Vodafone and Cairn, which have been facing multi-billion dollar tax liability following retrospective tax amendments made in 2012.
"I think and hope that they will take advantage of the scheme. The government has gone step forward and said this is the best we can do for you. You can take advantage," he added.
Jaitley in his Budget speech said: "In order to give an opportunity to the past cases, which are ongoing under the retrospective amendment, I propose 'One Time' scheme of dispute resolution for them in which subject to their agreeing to withdraw any pending case lying in any Court or tribunal or any proceeding for arbitration, mediation, etc under BIPA, they can settle the case by paying only the tax arrears in which case liability of the interest and penalty shall be waived."
(This story has not been edited by NDTV staff and is auto-generated from a syndicated feed.)