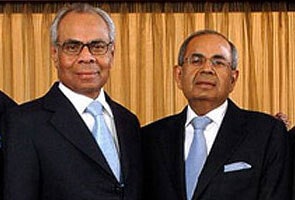 London: Hinduja Group is willing to invest $10 billion (Rs 60,000 crore at 1 dollar = 60 rupees) in unfinished power plants and infrastructure projects in India that have been languishing as non-performing assets (NPAs) with banks, to help bring back economy on high growth path.
Gopichand Hinduja, co-chairman of Hinduja Group of Companies, is keen that the projects that were part-financed by state banks but abandoned for a variety of reasons like non-availability of fuel, and are now listed as bad loans, should be quickly completed as the Indian economy picks up under Prime Minister Narendra Modi.
The diversified business conglomerate feels the UK government can encourage some of its companies to finance and complete the construction of such projects in exchange for fast approvals from India and the prospect of operational power stations, roads and bridges within two years.
"The Hindujas are willing to invest $10 billion in such projects."
"These projects are sitting in the banks as NPAs. We should invest in such projects so that investment and trade can grow in one or two years. Being a practical person I like to see something in the short, medium and long term," he said.
Mr Hinduja added that brownfield projects are the easiest way to show (fast) results and that is what the Prime Minister is trying to show rather than go into green field projects.
He said that Britain should seize the opportunity of Prime Minister Narendra Modi's new leadership to make a practical demonstration of its support.
"The British have to treat India differently from its neighbouring countries. India is the largest democratic country with a good judiciary, law and order and now with the relaxation in foreign direct investment of 49 per cent in defence and insurance and with a new government with strong leadership wanting to move forward, Britain should take the maximum [role]," he added.
Mr Hinduja also said Britain should give "India preference in different aspects, immigration, trade and investment focus, technology transfers".