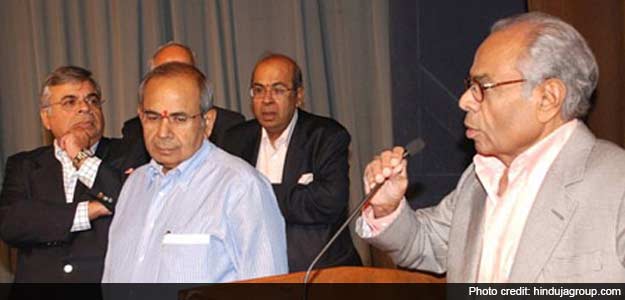 London:
NRI industrialists Hinduja brothers have been displaced as Britain's wealthiest family on a rich list released here on Sunday which was topped by Ukrainian music baron Len Blavatnik.
Srichand and Gopichand Hinduja with a fortune of 13 billion pounds were edged out from the top spot that they held in 2014 to the second place this year by Blavatnik, who has an estimated wealth of 13.17 billion pounds, on the annual 'Sunday Times Rich List'.
"The wedding of a Hinduja son in Mumbai cost 15 million pounds. That was small change for the brothers, who recently purchased the Royal Bank of Scotland's jewellery and diamond financing business in India for an undisclosed sum. It has a loan book worth nearly 500 million pounds," the newspaper said in reference to Britain's second-richest billionaires.
"All the businesses in their group of companies also give 2 per cent of their average pre-tax profits over the previous three years to charity. Healthcare and education causes are to the fore, and also rural development in India, as well as arts and cultural projects," it said.
Steel tycoon Lakshmi N Mittal also registered a loss of fortune, dropping to 7th place from last year's third spot with a wealth of 9.2 billion pounds.
In contrast, NRI industrialist Lord Swraj Paul held on to his 47th rank with an estimated wealth of 2.2 billion pounds, up nearly 200 million pounds from 2014.
According to this year's analysis, the total wealth of the richest 1,000 individuals and families in Britain has more than doubled in the last 10 years to 547 billion pounds.
Nearly 35 of these individuals are of Indian-origin, with five new entrants in 2015.
Among the new entrants this year are investment expert Ashish Thakkar and industrialist Gautam Thapar and family, who share the 217th rank with an estimated wealth of 500 million pounds each.
Food industry tycoons Ranjit and Baljinder Boparan at 608 with 160 million pounds, fashion trader Nitin Passi at 723 with 133 million pounds and financial services expert Lord Verjee at 754 with 125 million pounds are the other new Indian-origin entries.
This year's richest Blavatnik, a Ukraine-born businessman whose investments range from metals and oil to music publishing and digital media, has a 41-million pound home in London and has donated 75 million pounds to Oxford University to found the Blavatnik School of Government.
Queen Elizabeth II, who topped the first list in 1989, has dropped out of the top 300 for the first time down to 302, even though she increased her wealth by 10 million pounds this year to 340 million pounds.