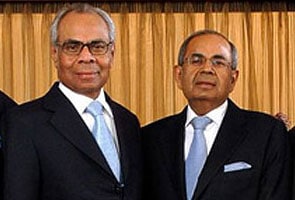 London:
The Hinduja brothers have topped UK's list of 1,000 richest people - that includes other Indian-origin industrialists Lakshmi N Mittal and Lord Swraj Paul - with a combined fortune reaching a "phenomenal" 518.9 billion pounds or one-third of Britain's annual GDP.
Srichand, 78, and Gopichand Hinduja, 74 - who run the multinational Hinduja Group conglomerate with interests across automotive, real estate and oil - moved up from third position last year to top the UK's billionaire charts this year with a fortune of 11.9 billion pounds, according to The Sunday Times Rich List 2014 made public today.
The London-based Hindujas edged out steel tycoon Lakshmi N Mittal, who rose one position upwards to the third rank with 10.25 billion pounds even as Arsenal shareholder and Russian business chief Usmanov, who topped the list till last year, fell to the second place after his estimated fortune dropped to 10.65 billion pounds.
"Last year, the Hindujas sold a 49 per cent stake in a Saudi Arabian lubricants maker, Petromin, for more than 200 million pounds. Property investments in India have added 200 million pounds. The family's IndusInd bank is capitalised at about 2.7 billion pounds. In Britain, Hinduja Automotive turned over about 1.5 billion pounds in 2012-13," the newspaper said.
According to the list of 1,000 richest men and women, Britain's wealthiest people are richer than ever before, with a combined fortune of 518.9 billion pounds, equivalent to a third of the nation's gross domestic product (GDP).
The rich have surged to new heights with their wealth rising by 15.4 per cent on last year's total of 449.6 billion pounds.
It means the wealth of the top 1,000 has doubled since the financial turmoil in 2009, rising from 258 billion pounds that year, the newspaper said.
The list also includes NRI industrialists such as Prakash Lohia, Lord Swraj Paul and family, Anil Agarwal and Ajay Kalsi and family.
Philip Beresford, who has compiled the list since 1989, said: "I've never seen such a phenomenal rise in personal wealth as the growth in the fortunes of Britain's 1,000 richest people over the past year."
"The richest have had an astonishing year, and while some may criticise them, many of these people are at the heart of the economy and their success brings more jobs and more wealth for the country," Beresford said.
One of the world's most active philanthropists, 60-year- old Usmanov sold a $525 million stake in Facebook last year and has sold out of Apple, preferring to focus on Chinese tech companies. He controls Metalloinvest, Russia's largest iron ore producer, and MegaFon, its second-biggest mobile phone operator.