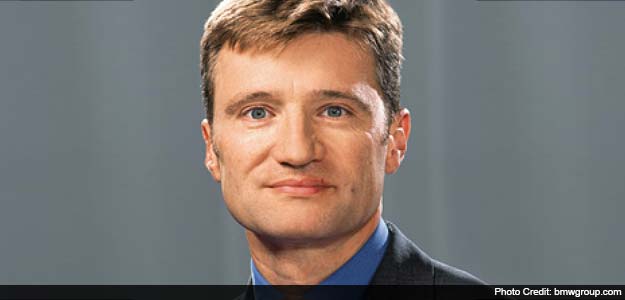 The appointment of Markus Braunsperger as Hero MotoCorp's research & development head is positive for the stock, brokerage Maybank says. Mr Braunsperger, a BMW veteran, is expected to head Hero MotoCorp's upcoming Rs 500-crore R&D center in Rajasthan.
"This shows Hero MotoCorp's aggression relating to new launches... The new R&D head will join in October and will play a crucial role in managing Hero MotoCorp's joint venture with Eric Beuel and AVL," the brokerage said. Eric Beuel is an US-based company, while AVL is based in Austria.
The news of Mr Braunsperger's appointment comes at a time when Hero MotoCorp is gearing up to launch new 250cc, 100cc and 110cc bikes using its own technology.
The new launches are important for Hero MotoCorp, India's biggest two-wheeler maker, whose licensing agreement with Honda came to an end on June 20, 2014. The Gurgaon-based two-wheeler maker parted ways with Japanese auto major Honda Motorcycle and Scooter India (HMSI) in December 2010.
Since then, HMSI has been aggressively expanding its footprint across the country. In FY14, HMSI clocked 36.50 per cent year-on-year growth in volumes as against Hero MotoCorp's volume growth of 3.43 per cent, according to SIAM data.
However, Hero MotoCorp has held on to its market share. According to Nomura, despite intense competition and new launches from Honda, Hero MotoCorp has managed to largely hold on to its market share in the domestic bikes segment so far. Hero MotoCorp had a market share of nearly 52 per cent in FY14 versus 53 per cent in FY13, Nomura estimated.
In the scooters segment also, Hero MotoCorp's market share has increased to 19.1 per cent in FY14 from 18.8 per cent in FY13 and around 16 per cent in FY12, Nomura says. HMSI commands over 50 per cent market share in the scooter segment.
"We believe HMCL's strong brand and distribution network and its higher exposure to rural India have helped the company to maintain its market share," the brokerage noted.
Both Maybank and Nomura have a "buy" call on Hero MotoCorp. Shares in the company closed 1.2 per cent higher at Rs 2,566.95. The stock outperformed the broader auto sub-index on the BSE, which closed up 0.42 per cent.