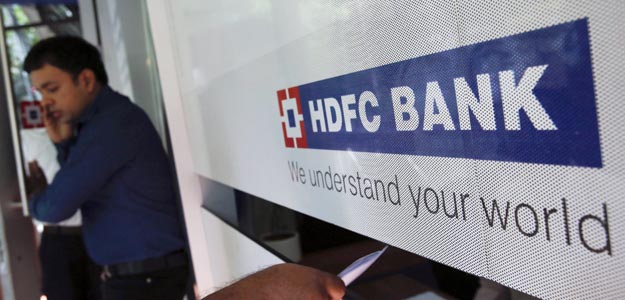 HDFC Bank is India's most valuable brand, according to a report released by marketing and brand consultancy Millward Brown in conjunction with communications group WPP. The BrandZ Top 50 Most Valuable Indian Brands ranking values HDFC Bank at $9.4 billion or Rs 56,400 crore ($1=Rs 60). The valuation takes into account consumers' opinion of brands to calculate the contribution that product brands make to business success, WPP said.
HDFC Bank is India's third largest lender by assets.
"HDFC Bank has a network of over 3,400 branches and 11,250 ATMs (automated teller machines) in more than 2,100 cities. It is popular with its 28 million customers for launching mobile apps designed to make banking easier, and running literacy, education and skills training programmes in rural areas," WPP said, which calls itself the world's largest communications services group.
Airtel, India's largest telecom operator by subscriber base with nearly 300 million customers came second in the rankings while India's largest lender SBI (State Bank of India) came in at number 3 in the rankings.
The combined brand value of the BrandZ Top 50 Most Valuable Indian Brands is almost $70 billion or Rs 4.2 lakh crore.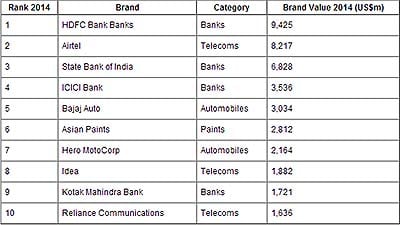 Services businesses (Banking, Telecoms and Insurance) are prominent in the ranking with seven of the top 10 brands, and 30 per cent of the top 50 brands, coming from the service sector. Financial services stand out, with the 12 banks and insurers in the ranking holding the largest proportion (37 per cent) of total brand value.
The study showed that the top 50 brands come from 13 different categories- 17 are multi-national corporations (MNCs), 26 are private Indian brands and seven are state-owned brands.
"India's most valuable brands are highly relevant to consumers and differentiate themselves through service, new offerings and brand experiences. One such example is personal care brand Colgate (ranked at No.28) - even after 70 years in India the brand has successfully remained relevant and continues to differentiate itself from the competition," WPP said.
The report revealed how old brands continue to be relevant alongside newer ones. While the number 2 brand Airtel was established in 1995, Dabur at number 22 in the rankings was established 130 years ago and Bajaj Auto at number 5, in 1945. (See the full report)
India's top 50 most valuable brands have as much brand power (consumers' predisposition to choose that brand over another) as the global top 50, and are ahead of the other emerging economies, WPP said.