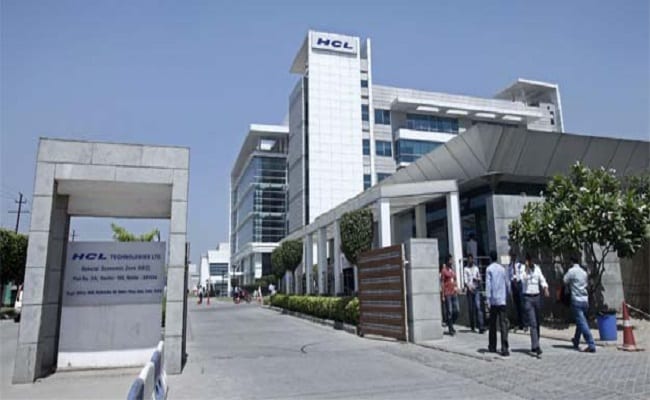 HCL Technologies on Friday reported a net profit of Rs 3,143 crore in the quarter ended September 30, marking an increase of 7.23 per cent compared to the April-June period. In a regulatory filing, HCL Tech - the country's third largest IT company by market capitalisation - said its revenue came in at Rs 18,594 crore in the second quarter of current financial year, up 4.21 per cent sequentially. Shares in Noida-based HCL Tech fell as much as 4.47 per cent to Rs 821 apiece on the BSE, soon after opening higher at Rs 865 compared to their previous close of Rs 859.45.
HCL Tech retained its revenue guidance at an average of 1.5-2.5 per cent (quarter-on-quarter) in constant currency terms for the final two quarters of 2020-21. The company's board approved a dividend of Rs 4 per share.
The IT major said revenue from its IT and business services operations grew 5.12 per cent to Rs 13,162 crore in the July-September period compared to the previous quarter, and that from its engineering and R&D services segment rose to Rs 2,922 crore from Rs 2,861 crore.
"This growth momentum was driven by our continued leadership in digital transformation and Cloud businesses and a strong stability in the products and platforms segment, all of which continue to open diverse growth avenues for us," said C Vijayakumar, president and CEO, HCL Technologies.
Revenue from the company's products and platforms business increased 2.03 per cent to Rs 2,510 crore, according to the filing.
"Our investments over the last few years in next-gen technologies have held us in good stead during these difficult times and position us strongly to leverage the emerging market opportunities," Mr Vijayakumar added.
Its EBITDA or earnings before interest, taxes, depreciation and amortization margin improved to 26.6 per cent in the second quarter of current financial year, from 25.6 per cent in the April-June period.
HCL Tech's total expenditure increased 2.61 per cent to Rs 14,648 crore compared to the previous quarter, led by a 3.88 per cent rise in employee benefits-related expenses.
At 10:17 am, the HCL Technologies stock quoted 3.12 per cent lower at Rs 832.60 apiece on the bourse, underperforming the benchmark S&P BSE Sensex index which was up 0.50 per cent amid broad-based gains. (Track HCL Tech Shares)