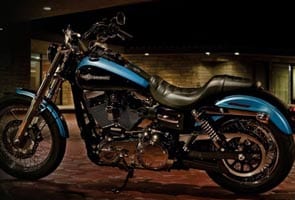 New Delhi:
US cult bike maker Harley Davidson today launched two locally-assembled models at a price starting from Rs 9.95 lakh, which is much lower than that of imported motorcycles.
FXDB Street Bob and FXDC Super Glide Custom, previously offered as Completely Built-up (CBU) imports, will now be available at all the seven dealership of Harley-Davidson. The two bikes belong to the company's Dyna family of motorcycles.
FXDB Street Bob will be available for Rs 9.95 lakh as against the earlier Rs 13.95 lakh. The FXDC super Glide Customs will be retailed at Rs 11.5 lakh as against Rs 15.45 lakh (CBU). The assembly plant is at Bawal, Haryana.
Bookings for these two motorcycles at the new prices have started at all the seven dealerships of Harley-Davidson in the country, Managing Director, Harley-Davidson India Anoop Prakash said.
Announcing the expansion of complete knock down (CKD) production of Harley-Davidson India at the Auto Expo 2012, Prakash said, "The first time enthusiasts will be (now be) able to lay their hands on a 1,600cc bike for under Rs 10 lakh".
With about 1,000 Harleys already on Indian roads, the company is expecting greater demand for the iconic bike in India and would be opening three more showrooms at Kolkota, Kochi and Jaipur.
The company commenced its India CKD assembly operation in January last year and has been assembling three motorcycles -- Harley-Davidson Superflow, Harley-Davidson Iron 883 and Harley-Davidson Forty-Eight.
With the introduction of two more motorcycles in its CKD line-up, the company now assembles five motor bikes in the country, out of its total line up of 15 bikes being offered.
The company also unveiled five customised bikes at the Expo.
Harley-Davidson Motor Company, a subsidiary of Harley-Davidson Inc, produces heavyweight Custom, Cruiser, and Touring motorcycles.
Its India operation started in August 2009.