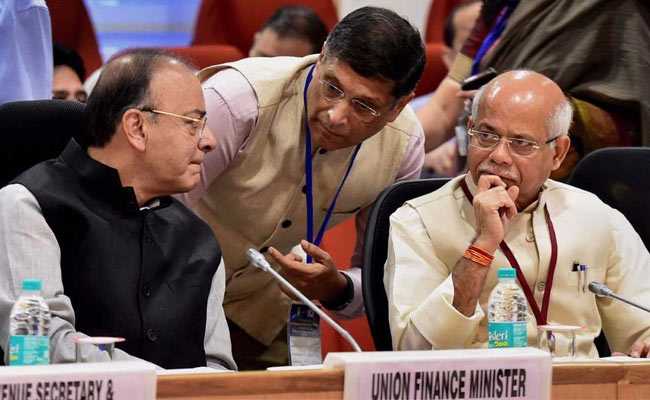 Highlights
GST rate on many daily-use items have been reduced
GST on unbranded namkeen, ayurvedic medicines, reduced
The council which had in September cut taxes on 40 items
The GST Council on Friday recommended reduction in the tax rate of range of items at its 22nd meeting held in New Delhi. Finance Minister Arun Jaitley, who heads the Council said after the day-long meeting, that GST rate on many daily-use items will be reduced, including man made yarn, unbranded namkeen, stones used in flooring and diesel engine parts, among others.
The Council, which had in its last meeting in September cut taxes on 40 items, said it recommended cuts in GST rate on 27 items on Friday. The Finance Minister also hinted that
tax on eating out
is being reconsidered and announced that a group of finance ministers would take a complete relook at the way the restaurants should be taxed.
Here is the full list of items which are set to become cheaper after the latest set of tax cuts, according to Mr Jaitley:
S No.
Item Name
Present GST Rate
GST Rate Recommended
1.
Mangoes sliced dried
12%
5%
2.

Khakra and plain chapati / roti
12%
5%
3.
Food preparations put up in unit containers and intended for free distribution to economically weaker sections of the society under a programme dulyapproved by the Central Government or any State Government, subject to specified conditions
18%

5 %


4.
Namkeens other than those put up in unit container and, -
(a) bearing a registered brand name; or
(b) bearing a brand name on which an actionable claim or enforceable right in a court of law is available [other than those where any actionable claim or enforceable right in respect of such brand name has been foregone voluntarily
12%
5%
5.
Imposing GST only on the net quantity of superior kerosene oil [SKO] retained for the manufacture of Linear Alkyl Benzene [LAB]
18%
18%
[Clarification to be issued]
6.
Ayurvedic, Unani, Siddha, Homeopathy medicines, other than those bearing a brand name
12%
5%
7.
Poster Colour
28%
18%
8.
Modelling paste for children amusement
28%
18%
9.
Plastic waste, parings or scrap
18%
5%
10.
Rubber waste, parings or scrap
18%
5%
11.
Hard Rubber waste or scrap
28%
5%
12.
Paper waste or scrap
12%
5%
13.
Duty credit scrips
5%
Nil
14.
Sewing thread of manmade filaments, whether or not put up for retail sale

18%
12%
15.
All synthetic filament yarn, such as nylon, polyester, acrylic, etc.

18%
12%
16.
All artificial filament yarn, such as viscose rayon, Cuprammonium,
18%
12%
17.
Sewing thread of manmade staple fibres

18%
12%
18.
Yarn of manmade staple fibres
18%
12%
19.
Real Zari
12%
5%
20.
All goods falling under heading 6802 [other than those of marble and granite or those which attract 12% GST]
28%
18%
21.
Cullet or other waste or scrap of Glass

18%
5%
22.
Fittings for loose-leaf binders or files, letter clips, letter corners, paper clips, indexing tags and similar office articles, of base metal; staples in strips (for example, for offices, upholstery, packaging), of base metal

28%
18%
23.
Plain Shaft Bearing 8483
28%
18%
24.
Parts suitable for use solely or principally with fixed Speed Diesel Engines of power not exceeding 15HP

28%
18%
25.
Parts suitable for use solely or principally with power driven pumps primarily designed for handling water, namely, centrifugal pumps (horizontal and vertical), deep tube-well turbine pumps, submersible pumps, axial flow and mixed flow vertical pumps
28%
18%
26.
E-Waste
28%/18%
5%
27.
Biomass briquettes
18%
5%
The GST Council also hiked the threshold limit of the composition scheme to Rs. 1 crore from Rs. 75 lakh, The move will ease the compliance norms for small businesses. Businesses with annual turnover up to Rs. 1 crore can now opt for the composition scheme, which enables them to pay tax at a flat rate without input credits, Mr Jaitley said. The council also announced a
slew of measures
to help exporters with GST compliance.
The review comes after feedback and complaints from businesses over compliance issues with the indirect tax regime.