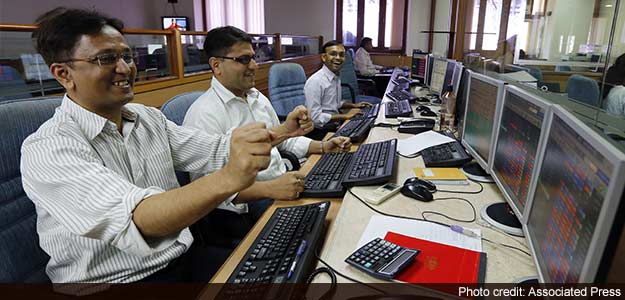 Highlights
Majority of states on Tuesday backed the government on key issues on GST
This has raised hopes of its passage in current session of Parliament
Indian markets have rallied 27% from the Budget day (February 29) low
India stock markets surged today with Nifty hitting a 15-month high of 8,665 as hopes of the passage of GST Bill during the current monsoon session of Parliament lifted sentiments. The Sensex also rose over 200 points to an 11-month high of 28,210. A rally in global equity markets also lifted the sentiment in domestic markets. However, Indian markets turned flat in early noon trade on profit-taking at higher levels.

Here Are 10 Updates:

1) In a big boost for the passage of the key GST Bill, a majority of states on Tuesday backed the government on key issues which have been stalling the Bill. This has raised hopes that with greater numbers backing the bill, it could be taken up in the Rajya Sabha or upper house in the current monsoon session of Parliament.

2) Asian markets climbed to fresh near one-year highs today as with Japan's Nikkei surging 2 per cent amid reports that Japan has unveiled more than $266 billion economic stimulus.

3) Back in the domestic markets, gains in today's session were led by strong buying interest in rate-sensitive banking, auto and auto stocks. The banking sub-index or Bank Nifty on the NSE also rose close to its highest level in a year.

4) Traders are betting that with good monsoon rains, the inflation will edge lower in coming months, giving room to the Reserve Bank to lower rates. The RBI's next policy review is scheduled on August 9.

5) The Reserve Bank is expected to cut key interest rates by 25 basis points in its policy review meet on August 9, if good rains damp pulse price inflation, says a Bank of America Merrill Lynch (BofA-ML) report.


6)
Indian markets have rallied 27 per cent from the Budget day (February 29) low. This has led some analysts to adopt a cautious stance. The market at the current juncture looks a touch expensive from the perspective of six months to one year, says Sunil Subramaniam, CEO of Sundaram Mutual Fund. But from the horizon of two to three years, it is reasonably priced because the earnings growth in coming quarters will justify the valuations, he added.
7)
Analysts expect earnings growth to pick up in the coming quarters on the back of good monsoon and the award of Seventh Pay Commission recommendations. With the government notifying the hike, employees may get revised pay from August which will further spur consumption demand.
8)
Sumeet Bagadia, associate director at Choice Broking, says Nifty has strong support at 8,550-8,540 and a move above 8,650 could extend the rally by another 100-150 points.
9)
The global uncertainty caused by Brexit has bolstered expectations that the US Fed will delay its rate hikes. The Fed's two-day policy meet ends today and it is widely expected that the US central bank will stay put on its rates.
10)
The cautious stance from the global central banks has led to strong inflows into emerging markets, including India. Foreign investors have bought $1.2 billion worth of Indian shares this month, according to
Bloomberg
. Global investors have been buyers of Indian shares for five months, the longest stretch since November 2014,
Bloomberg
added. The rupee has remained stable around 67 dollar, further boosting the sentiment in Indian equity markets.