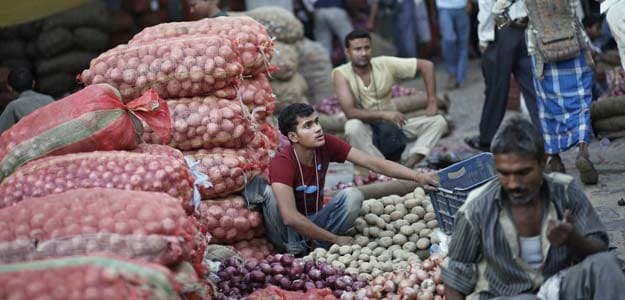 Hapur, Uttar Pradesh:
Every few weeks farmer Jay Narayan Singh hauls onions and potatoes in a hired lorry to a wholesale market an hour's drive from his home in the country's northern plains, only to sell his vegetables at a quarter of the prices retail consumers pay.
A law that dates back more than 50 years forces Singh and millions of other farmers to sell produce in regulated markets where middlemen take a hefty cut, boosting the cost of fruit and vegetables sold from handcarts and corner shops.
"The market is nothing but a haven for a clique of middlemen who indulge in profiteering, depriving both farmers and consumers of a fair price," Singh said.
As food inflation nears 10 per cent, the new government of Prime Minister Narendra Modi faces accusations that it is doing no better at reining in prices than the Nehru-Gandhi dynasty's Congress party, which suffered its worst election defeat in May.
Determined to avoid a repeat of the inflation scourge that contributed to the Congress downfall, PM Modi is taking aim at the Agriculture Produce Marketing Committee (APMC) Act.
The law aims to protect farmers from exploitation by rich landlords, and requires all produce to be sold through regulated markets in most of the 29 states.
Even big retailers, such as Reliance Industries, Wal-Mart Stores Inc, Shoppers' Stop and Britain's Tesco Plc, can only buy through wholesale markets governed by the Act.
But critics say too many people in the supply chain seek a cut, which exaggerates price rises during India's frequent supply disruptions because of a perennial shortage of storage.
PM Modi's food and finance ministers are now pushing states to let fruit and vegetable farmers sell to anyone they want, ending a practice that governs more than 7,000 wholesale markets.
"Allowing direct purchases will be a win-win proposition," said farmer Ved Prakash Sharma, as he oversaw labourers unloading sacks of vegetables at the Hapur wholesale market, about 60 km from the Indian capital, New Delhi.
"While we will get a fair price for our goods, consumers will have to pay less."
Authorities in the capital have already taken the step, but other state governments face a tough battle against entrenched vested interests in doing the same. Only Bihar has so far succeeded in revoking the Act.
Many middlemen who benefit from the system are supporters of Modi's Bharatiya Janata Party (BJP), which needs to keep voters sweet ahead of assembly polls due this year in Delhi, Haryana and Maharashtra.
Even some farmers could baulk at any assault on traders, who are often a source of credit in hard times after drought or crop failure.
Bargaining Power
An opaque system of auction by traders' cartels leaves farmers with scant bargaining power.
Farmers who travel long distances to market often cannot afford to return home without a sale, said Naveen Yadav, a farmer who brought a truckload of okra to Hapur.
"After extensive research we found that the total margin of middlemen in the entire chain adds up to 75 per cent, ramping up costs for consumers," said Gokul Patnaik, chairman of GlobalAgri System, a Delhi-based farm consultancy.
In other countries where the food supply chain is better integrated, the margin ranges from 20 per cent to 30 per cent, he added.
Excluding fruit and vegetables from the APMC Act would cut prices by at least 5 per cent because direct selling would cut out middlemen's commissions and wholesale market fees, he said.
Numerous middlemen also add to a high rate of spoilage, as cargoes get repeatedly loaded and unloaded.
That leads to wastage of as much as a quarter of the value of goods, with consumers paying the cost, Patnaik said.
Levies such as wholesale market fees, purchase and sales taxes, and weighing and loading charges also boost final prices.
Some states add a tax to fund welfare programmes, such as Punjab, where levies add up to nearly 15 per cent of the value of goods.
Food Minister Ram Vilas Paswan favours a uniform market in which farmers can sell whatever, and wherever, they want.
"There's no market for India as a nation," Paswan told reporters last month.
"Everywhere you have sort of a barricade. We are trying to bring in the concept of India as one market." But Paswan could face resistance from state governments, which could fight measures that threaten earnings from taxes.
Farming forms 14 percent of India's nearly $2-trillion economy and employs more than half its 1.2-billion population.
Debate Over Foreign Players
Stamping out middlemen is not a panacea.
The government will have to give private players incentives to invest in alternative large markets, said Ashok Gulati, an agriculture expert at economic policy think-tank ICRIER.
Middlemen still thrive in Bihar, the only state to have junked the Act, because it offered no alternative arrangement to growers, such as private markets or direct purchase centres.
Trying to modernise the food supply chain by meddling with every stage and every product would only lead to failure, a group of senior government officials warned recently.
"One way of playing an enabling role is to allow foreign direct investment into multi-product retail," they said in an internal memo, a copy of which was seen by Reuters.
Modi's BJP has ruled out foreign direct investment in supermarkets, however. Losing patience, Wal-Mart has dropped a wholesale joint venture with a local firm and France's Carrefour plans to close its four wholesale stores in India.
Still, revamping the act would be the best solution, farmer Jay Narayan Singh told Reuters.
"As a third-generation farmer, I can tell you the Act has outlived its usefulness and must be either abolished or overhauled to help both farmers and consumers," he said.
Copyright: Thomson Reuters 2014