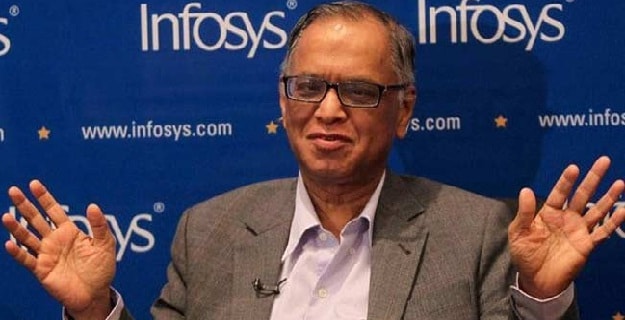 New Delhi
: Making a case for "compassionate capitalism", Infosys co-founder N R Narayana Murthy on Wednesday said the government should ensure smooth functioning for businesses and entrepreneurs through measures like clear taxation laws to enable creation of more jobs and wealth.
"This economic system (compassionate capitalism) requires commitment from the corporate governance system and public governance system," Mr Murthy said at the 22nd Lal Bahadur Shastri Memorial Lecture.
"...the government should follow three fundamental systems, number one being move towards zero friction of businesses and for entrepreneurs so that more and more jobs and wealth can be created and more taxes can be collected."
He added that simple, fair and internationally competitive tax and governance laws are required that are easy to understand and comply with.
Mr Murthy said the laws also need to be stable that are "legislated only on a prospective basis, only after adequate consultation with businesses and only after giving adequate notice".
The industry stalwart also stressed on the need to collect "maximum tax" swiftly and fairly without corruption.
"We have to create a special legal system to dispose of tax cases swiftly and impose swift and heavy punishment on defaulters. The central government as unifier of this nation has to put regulations in place to curb the excesses of unbridled capitalism," he said.
On role of companies, he said corporate leaders should follow a transparent accounting policy towards stakeholders like employees, customers, investors and vendor partners.
The IT industry doyen has suggested in the past too that taxes should be increased so that these extra funds could be used towards basic amenities like education, health and infrastructure.
According to Mr Murthy, 10-12 million jobs need to be created every year for the next 10-15 years to provide employment to people who may often be semi-literate.
Many of these can be absorbed by low-tech manufacturing in the country, he added.
To consume the output, the country would need a combination of exports and imports consumption strategy with 60-70 per going for exports.
"Such a strategy requires that we become attractive exporters for the markets with our products and services providing best value for money," he said.
Mr Murthy felt that such massive job creation requires an investment of $200-250 billion every year.
"Obtaining such capital requires that we attract investment from both domestic and international industrialists and that means, we will have to enhance trust of these investors in our corporate governance system by following globally best practices and through transparent accountable and speedy decision making without any corruption," he said.