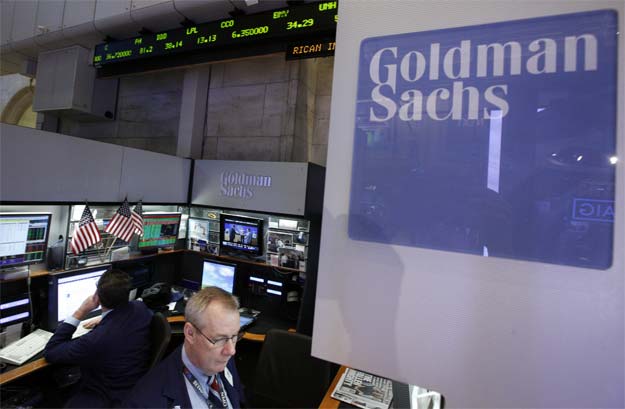 Goldman Sachs Group Inc reported a stronger-than-expected 5.5 per cent rise in quarterly profit as it earned more from underwriting fees and its investing and lending business.
Net income applicable to common shareholders at the top Wall Street bank rose to $2.19 billion, or $4.29 per share, in the first quarter from $2.07 billion, or $3.92 per share, a year earlier.
Analysts on average had expected earnings before unusual items of $3.88 per share, according to Thomson Reuters I/B/E/S.
Goldman Sachs' shares were up slightly at $146.99 before the bell on Tuesday.
Total revenue increased 1.4 per cent to $10.09 billion from a year earlier, while revenue from trading in fixed income securities, currencies and commodities on behalf of clients dropped 7 per cent to $3.22 billion.
The Investing and Lending unit, which trades on the bank's own account, delivered revenue of $2.07 billion, accounting for 20.5 per cent of overall net revenue, the second-largest contributor behind client trading.
Client trading revenue fell 10 per cent to $5.14 billion but still accounted for nearly half of total revenue.
Analysts had forecast that the unpredictable Investing and Lending unit would generate revenue of anywhere from $1 billion to $2.2 billion.
The bank's proprietary trading has helped it beat analysts' expectations in many quarters, but also led to Goldman's second-ever loss as a public company in the third quarter of 2011.
Total operating expenses were virtually unchanged at $6.72 billion.
Goldman's annualized return-on-equity, a closely watched measure of profitability, rose to 12.4 per cent in the first quarter from 12.2 per cent in the year-earlier quarter, but was still far below pre-crisis levels of above 30 per cent.
The bank's average daily value at risk, which measures the maximum that Goldman could have lost on 95 per cent of trading days, was $76 million during the first quarter, down from $95 million a year earlier.
Goldman said its tier 1 capital ratio slipped to 14.4 per cent from 14.7 per cent.
The U.S. Federal Reserve told Goldman in March that its annual "stress test" showed that it needed to improve its capital plans. Chief Executive Lloyd Blankfein said then that the bank would resubmit its capital plan with enhancements by the end of the third quarter.
Copyright: Thomson Reuters 2013