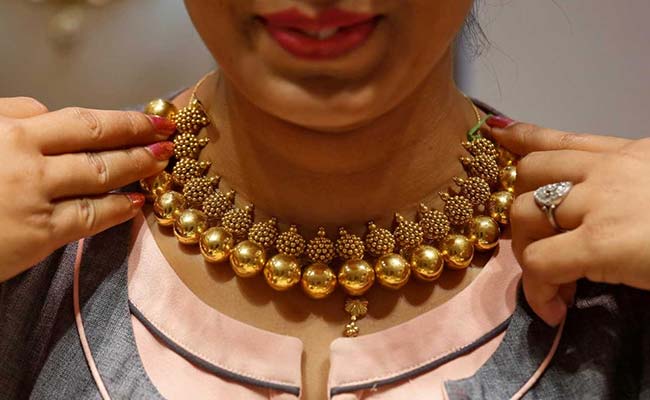 Gold prices fell by Rs 100 to Rs 31,050 per 10 grams at the bullion market on Tuesday owing to a slackened demand from local jewellers even as the metal strengthened overseas, reported news agency Press Trust of India (PTI). Silver followed suit and slipped by Rs 130 to Rs 39,820 per kg due to reduced off take by industrial units and coin makers. Traders said muted demand from local jewellers and retailers at the spot market led to a decline in gold prices, but a firm trend overseas as the dollar remained on the backfoot ahead of US Federal Reserve Chairman Jerome Powell's first congressional testimony for hints on the pace of interest rate hikes, capped the fall.
Here are key things to know about gold and silver prices today:
1. Globally, spot gold was up 0.25 per cent at $1,243.18 an ounce in early trade while US gold futures for August delivery were up 0.3 per cent at $1,243.20 an ounce, reported news agency Reuters.
2. In Delhi, gold of 99.9 per cent and 99.5 per cent purity declined by Rs 100 each to Rs 31,050 and Rs 30,900 per 10 grams, respectively. The precious metal had gained Rs 60 yesterday.
3. Sovereign, however, remained unaltered at Rs 24,700 per piece of eight grams.
4. In sync with gold, silver ready drifted lower by Rs 130 to Rs 39,820 per kg and weekly-based delivery by Rs 185 to Rs 38,980 per kg.
5. Silver coins, however, remained steady at Rs 74,000 for buying and Rs 75,000 for selling of 100 pieces.
(With agency inputs)