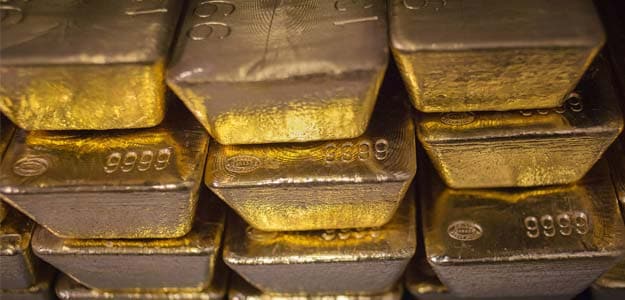 New Delhi: Gold prices spurted by Rs 210 to Rs 27,280 per ten grams at the bullion market here today following sustained buying by stockists on pick-up in seasonal demand.
However, a weak trend in global market as the dollar advanced towards a four-year high reducing demand for an alternative investment, capped the rise.
Silver also recorded a significant rise of Rs 960 to Rs 39,250 per kg on increased offtake by industrial units and coin makers.
Bullion merchants said sustained buying by jewellers as well as stockists on the back of pick-up in seasonal demand mainly led to the rise in gold and silver prices.
Besides, diversion of funds from equity markets towards bullion also supported the upside in precious metal prices, they said.
Globally, gold in Singapore rose as much as 0.4 per cent to $1,203.02 an ounce and silver gained 0.3 per cent to $17.39 an ounce.
In the national capital, gold of 99.9 and 99.5 per cent purity shot up by Rs 210 each to Rs 27,280 and Rs 27,080 per ten grams, respectively. It had gained Rs 40 yesterday.
Sovereign also found some buying support and prices were up by Rs 50 to Rs 24,150 per piece of eight grams.
Silver coins remained in demand and rose by another Rs 1,000 to Rs 68,000 for buying and Rs 69,000 for selling of 100 pieces.