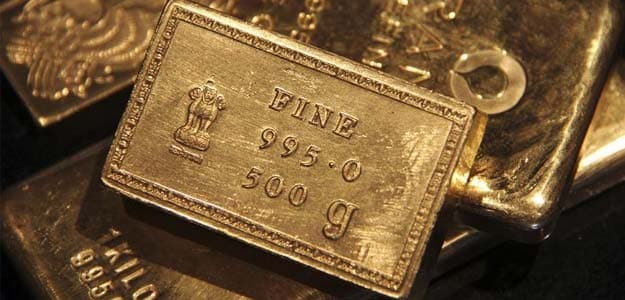 Singapore:
Gold added to sharp overnight gains to trade near its highest in almost four months on Friday and was on track for a sixth straight weekly gain as troubles at a Portuguese bank hammered equities and stoked safe-haven demand for bullion.
Spot gold inched up 0.3 per cent to $1,338.20 an ounce by 0335 GMT, after closing up 0.7 per cent on Thursday, when it rose to a peak of $1,345 - the metal's highest since March 19.
Gold has gained more than 1 per cent this week. The sixth weekly gain would be gold's longest winning streak since Feb-March when it had a similar run.
"Money seems to be shifting out of equities and into gold," said one precious metals trader in Hong Kong. "The Portugal news has brought in a new safe-haven aspect for gold on top of what's happening in the Middle East."
The trader said it was a surprise for gold to jump sharply in the face of fundamental negative news from India, where import duty on the metal was kept unchanged at record highs.
Gold is getting a boost along with other safe-havens such as the Japanese yen and bonds, as European and US stock markets fell on Thursday on investor fears over financial troubles at the family-owned holding companies behind Banco Espirito Santo.
Thursday's contagion across borders and markets is a vivid reminder of the crippling debt and economic crisis from which Portugal and other countries on Europe's southern rim are only just emerging.
Geopolitical tensions in the Middle East and Ukraine also continued to support gold, seen as an alternative investment to riskier assets such as equities.
In the physical markets, India surprised bullion markets by keeping the import duty on gold and silver unchanged at 10 per cent in its fiscal budget, a move likely to limit overseas purchases by the second-biggest bullion consumer and further encourage smuggling.
Physical demand in other Asian countries was also weak due the recent jump in prices. In No. 1 buyer China, local prices have been on par with the global benchmark or at a discount, underscoring sluggish demand.
Among other precious metals, platinum and palladium were both headed for their fourth straight weekly gain, while silver was set for a sixth weekly rise as it tracked gains in gold.
Copyright: Thomson Reuters 2014