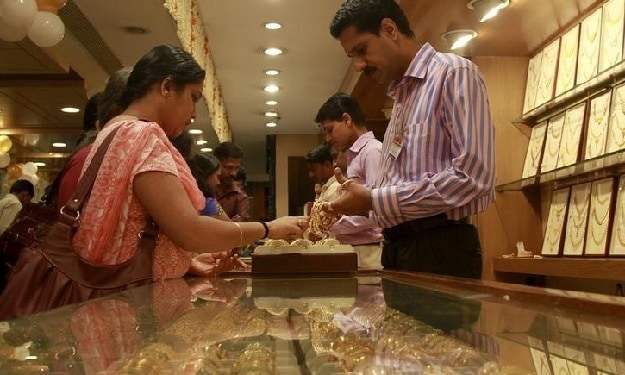 Mumbai
: Gold imports are likely to decline by up to 5 per cent over the next 12-18 months due to the proposed launches of the Gold Bond Scheme (GBS) and the Gold Monetization Scheme (GMS), rating agency ICRA said on Friday.
The overall impact of the GBS and GMS schemes is likely to be moderately positive on Indian gold imports over the medium term with imports expected to decline by 3-5 per cent over the next 12-18 months, the rating agency said in a report.
Recently, the government had approved implementation of the GBS and GMS to help reduce imports of the yellow metal.
The GBS and GMS aim to curb investment demand for gold and also mobilize idle gold lying with households.
"While we expect the GBS scheme to be relatively successful, the impact of GMS is likely to be limited because of concerns regarding the operating modalities of the scheme," the report said.
It anticipates that the low interest rate expected to be on offer under the GMS is unlikely to compensate for the loss of jewellery (financial cost) through melting, owing to the strong emotional quotient attached to the shiny metal.
GBS, on the other hand, provides an alternative avenue for channeling investments into the commodity in addition to generating some additional returns against direct investments into exchange traded funds (ETFs) or gold bars, where returns are linked to price movements alone, ICRA said.
Further on GMS, the collections under the scheme is likely to be modest as the sourcing is expected to reach 10-15 tonnes (a fraction of the 20,000 tonnes of idle household gold) within 2-3 years of launch, it added.
Demand for gold jewellery, after recording steady performance during the last quarter of fiscal year 2015, moderated during first quarter of the current fiscal due to unfavourable weather patterns and weak demand for wedding season during the recent quarter, the report said.
Demand remained stable throughout fiscal year 2015, expect second quarter of FY15 that recorded surge in volumes supported by wedding and festive season and also easing of the supply situation, ICRA said.
Over the near term, the agency expects improvement in demand environment - driven by the impending marriage and festive seasons - which in addition to the aggressive store expansion by organised retailers, will drive growth by about 3 per cent.
The jewellery industry in India, from an estimated Rs 2.2 trillion during 2014-15, is expected to grow to Rs 2.3 trillion over the next two fiscal years, it added.
Over the long term, gold jewellery demand in India would be supported by cultural underpinnings, evolving lifestyle, growing disposable income, especially in Tier III and rural markets, which account for a major share of the demand and the growing penetration of the organised sector.
ICRA said the domestic gold jewellery industry is likely to record robust growth of 6-8 per cent over the medium to long term.