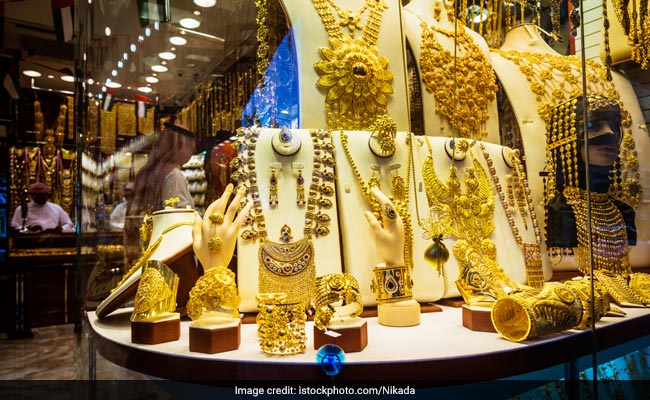 Highlights
Gold prices in Delhi trade near Rs. 30,450 per 10 gram on Tuesday
Globally, Gold rose over $70 from nearly five-month lows hit in December
Silver prices slipped by Rs 390 to Rs 39,710 per kg in Delhi
New Delhi: Gold prices in New Delhi rose higher by Rs 50 to trade near Rs 30,450 per 10 gram at the bullion market on Tuesday, tracking a firm trend globally amid scattered buying by local jewellers. However, silver prices slipped by Rs 390 to Rs 39,710 per kg due to reduced offtake by industrial units and coin makers. Apart from a firm global trend as weakness in dollar boosted safe haven demand, mild buying by local jewellers at the domestic spot market aided the uptrend in gold prices. Gold has risen more than $70 from nearly five-month lows hit in mid-December. Analysts and traders, though, remain cautious on how long the upward trend will continue. More than half of the $70 rally came in the last week, during the holiday period with much lower-than-normal average daily volumes, said Jeffrey Halley, senior market analyst at OANDA, adding that gold is also overbought.
Five Things To Know About Gold Price Trend
1. The gold prices rose Rs 50 on Tuesday to hit Rs 30,450. Globally, gold prices surged 0.42 per cent to hit $1,308 an ounce in Singapore.
2. In Delhi, gold of 99.9 per cent and 99.5 per cent purity were higher by Rs 50 each to Rs 30,450 and Rs 30,300 per 10 gram, respectively. Sovereign however remained flat at Rs 24,700 per piece of eight gram. On the other hand, silver fell by Rs 390 to Rs 39,710 per kg and weekly-based delivery by Rs 130 to Rs 39,040 per kg.
3. Globally, gold prices rose 0.5 percent to $1,308.31 an ounce at 1.09 pm, having hit its highest since September 26 at $1,310.30 earlier in the session.
4. Gold has strengthened technically after closing above 200-day and 100-day moving averages over the past two weeks, also breaching key psychological resistance at $1,300 on Friday, analysts and traders said.
5. Spot gold rose 13 percent last year to mark its best annual performance since 2010. A wilting US dollar, political tensions and receding concern over the impact of U.S. interest rate hikes fed the rally. The greenback, in which gold is priced, had its worst performance since 2003 last year, damaged by tensions over North Korea, questions over Russian involvement in US President Donald Trump's election campaign, and persistently low US inflation. "Gold has clearly benefited from lower U.S. yields and a much weaker US dollar into the year-end and one also suspects, quite a bit of urgent short-covering in a thin market," said Jeffrey Halley, senior market analyst at OANDA.