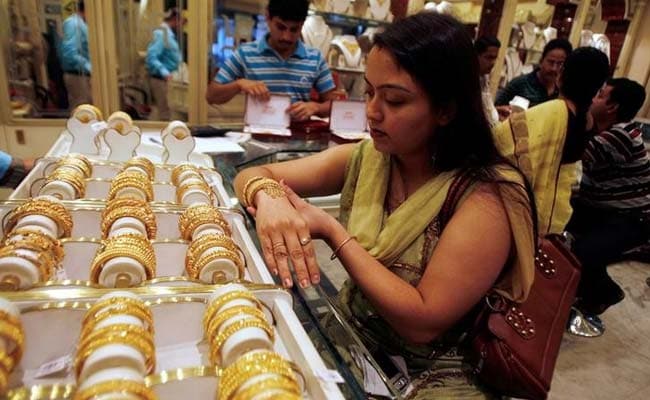 Global gold prices have held close to their one-year high levels as geopolitical risks over North Korea remained elevated. Domestic gold prices too have risen to their highest levels this year (year-to-date) around Rs 30,500, tracking higher global prices. Meanwhile, the rupee fell to a three-week low against the US dollar, sliding to 64.26 against the greenback. In global markets, gold prices rose to $1,339.87 per ounce today. This comes a day after the global gold rate touched its highest level since early September at $1,344.21. Domestic gold prices closely track global prices, as India meets almost all its requirements from imports. Besides that, import duties and the dollar-rupee value also affects domestic gold prices.
Here is a 10-point cheat-sheet:
The North Korea tensions and expectations of the Federal Reserve - the US central bank - delaying its rate hike have boosted the appeal of gold for investors. A top North Korean diplomat on Tuesday warned that his country is ready to send "more gift packages" to the United States as world powers struggled for a response to Pyongyang's latest nuclear weapons test.
On the technical front, analysts say, North Korea's missile tests helped gold break decisively through the $1,300 an ounce triple-top resistance, which now serves as support. Globally, prices of the precious metal used as a hedge against political and financial turmoil are up more than 7 per cent this quarter and more than 16 per cent so far this year.
The Federal Reserve should delay raising US interest rates until it is confident inflation will rebound, an influential policymaker said on Tuesday, the clearest signal yet that the Fed is getting more dovish in the face of weak data.
On Friday, after a US government report showed that employers added fewer jobs in August than expected, some traders held on to expectations that the Federal Reserve would wait until the middle of 2018 before raising rates.
Higher interest rates tend to boost the dollar and push bond yields up, putting pressure on gold prices by increasing the opportunity cost of holding non-yielding bullion.
Some analysts expect gold prices to rally further if the North Korean crisis continues. "If the crisis situation continues, we might see gold prices inching higher towards $1360 mark while in the Indian markets, futures gold prices will move higher towards Rs.30500/10 gm mark in the near term," Prathamesh Mallya of Angel Broking said in a note.
In the domestic futures market, October gold futures contract was trading at Rs 30,230 on MCX.
Continuing its recent weakness, the rupee fell to a three-week low against the US dollar on Wednesday. At 10 am, it traded at 64.24 against the greenback. Dealers said increased demand for the American currency from importers and banks and losses in domestic equity markets weighed on the rupee. Worries about North Korea have weighed on global stock markets.
Foreign portfolio investors pulled out Rs 1,010 crore from debt and equity markets on Tuesday, provisional data showed. "Overall, there is risk-off sentiment in the markets," says IFA Global, a forex advisory firm.
Despite the recent weakness, the rupee has surged over 5 per cent per cent against the US dollar this year, boosted by strong inflows into the domestic capital markets.
Get the latest election news, live updates and election schedule for Lok Sabha Elections 2019 on ndtv.com/elections. Like us on Facebook or follow us on Twitter and Instagram for updates from each of the 543 parliamentary seats for the 2019 Indian general elections.