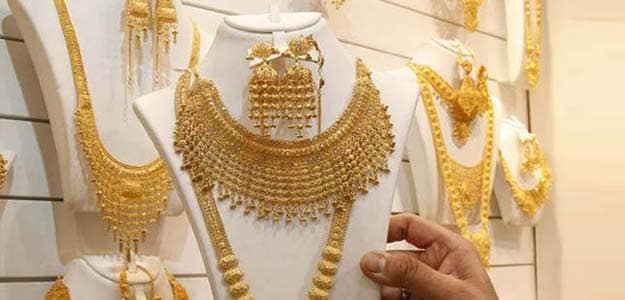 New Delhi:
Gold prices may jump further by 20 per cent to touch Rs 32,500 per 10 gram here on 'Dhanteras', a day considered auspicious for buying the precious metal, bullion traders said today.
Bullion traders expect that high prices would hit sales in volume terms by up to 30 per cent compared to the last 'Dhanteras' sales, but jewellers like Geetanjali and P P Jewellers are hopeful of rise in sales by about 10 per cent on Dhanteras which is falling on Sunday.
"Gold rates have increased by Rs 270 to Rs 32,040 per ten gram today taking strong global cues. Domestic prices are expected to rise by at least Rs 200-300 to touch Rs 32,500 per ten gram on Dhanteras day on Sunday," All India Sarafa Association Vice President Surinder Jain told PTI.
Gold prices were ruling at Rs 27,130 per 10 gram and Rs 19,740 per 10 gram on the Dhanteras day in 2011 and 2010, respectively, the trade data showed.
Mr Jain, who also heads Chandni Chowk Jewellery Association, noted that domestic prices are expected to rally in the coming months and might even touch Rs 35,000-mark anytime this year.
Echoing views, Bombay Bullion Association President Prithviraj Kothari said: "Prices are expected to be around Rs 32,500 per ten gram on Dhanteras day."
Because of firm prices, gold buying could drop by up to 30 per cent in volume terms on the Dhanteras day, when jewellers normally register the highest gold sales in a year, Mr Kothari said.
Stating that gold as an investment asset has given positive returns in the last few years, SMC Comtrade Chairman and Managing Director D K Aggarwal said, "Gold rate has risen by Rs 4,000-8,000 per ten gram on each Dhanteras day in last five years. Despite high rates, consumers continue to buy."
In the short-term, gold rates are, however, unlikely to decline below Rs 30,000 per 10 gram, he added.
Geetanjali Group Chairman and Managing Director Mehul Chowksi said, "High prices will not be a barrier for Indian consumers. We expect 10 per cent increase in sales in volume terms on Dhanteras."
P P Jewellers Director Pawan Gupta expressed similar views on sales front. "We are expecting better sales on Sunday despite prices remaining high. We see demand for Hallmark jewellery to surpass gold and silver coins because of greater awareness about quality certificate."
India, the world's largest consumer of gold, is expected to import 750-800 tonnes in 2012 calendar year, down from 969 tonnes in the last year.