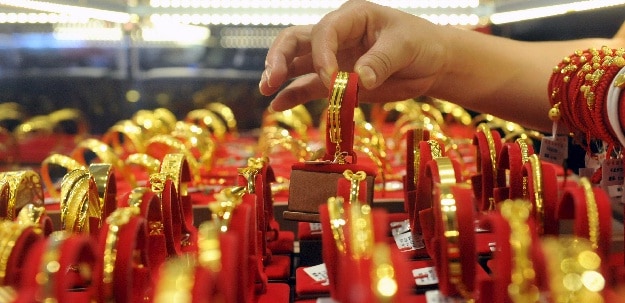 Gold prices, under severe pressure along with other commodities such as silver, platinum, crude oil, copper and steel, traded near six-year lows amid a glut and sluggish demand. The slump in gold prices has been driven by a stronger dollar, analysts say.

Here are 10 things to know about the sharp fall in gold prices:

1) Gold prices languished near their lowest level in six years on Tuesday. Spot gold traded at $1,070.30 an ounce by 09.00 a.m., not too far from last week's low of $1,064.95, which was the weakest since February 2010.

2) In India, gold prices are trading near three-month low above Rs 25,500 per 10 gram levels.

3) Gold futures are also trading near six year lows after declining for five straight weeks. This means traders are not optimistic about a rebound in gold prices.

4) Traders are dumping their gold because of the rising strength of US dollar. The dollar hit an eight-month high on Monday amid growing expectations that the Federal Reserve would increase US interest rates next month.

5) A firm greenback makes dollar-denominated commodities more expensive for holders of other currencies.


6) Exchange-traded funds, which are backed by the metals such as gold, but do not pay interest, have seen outflows, further weighing on gold prices, traders say.
7) Assets in SPDR Gold Trust, the world's largest gold-backed exchange-traded fund (ETF), tumbled to 655.69 tonnes on Monday, the lowest since September 2008.
8) Sustained strong physical demand in top consuming region Asia tends to provide a floor to falling prices. But demand for physical gold in India - the world's No.2 consumer of gold - has been sluggish after the end of the festive season, traders say.
9) The slump in gold prices makes the precious metal an attractive bet, but analysts cautioned investors against taking a position either way in gold. Waves Strategy Advisors asked investors to stay "light" as far as gold is concerned.
"One should not create fresh short positions at current level as risk reward is not favorable. Prices can trade in range of 25,100 and 24,450 for few days now," it added.
10) Fund manager Sandip Sabharwal tweeted last week that a "breakdown" in gold prices can lead to a substantial fall in gold prices.
Gold prices back to year lows. A breakdown will lead to a rapid 10% decline. Remains the most likely scenario.

— sandip sabharwal (@sandipsabharwal) November 17, 2015
(With inputs from agencies)