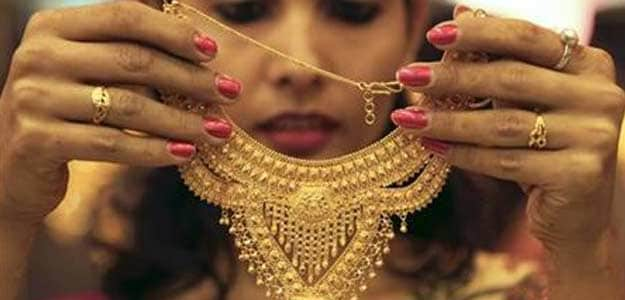 London: Gold prices plunged as much as 4 per cent to their lowest in more than five years on Monday as sellers in top consumer China offloaded the metal.

Investors have been finding less and less reason to hold gold as an insurance against risk, with the dollar strengthening ahead of what is expected to be the first increase in US interest rates for nearly a decade.

Spot gold fell $45.55 to its weakest since March 2010 at $1,088.05 an ounce shortly after the Shanghai Gold Exchange opened, with volumes soaring to a record.

It regained some ground, trading above the key $1,100 support level, but was still down 1.8 per cent at $1,113.80 an ounce by 1002 GMT.

Spot platinum fell for the fifth straight session, down 5 per cent at a fresh 6-1/2-year low of $942.49 an ounce, due to oversupply, sluggish demand and weaker gold prices, which encouraged speculative selling.

In India, Gold prices plummeted by Rs 300 to trade at over two-year low of Rs 25,700 per 10 grams at the bullion market. Silver also fell further by Rs 150 to Rs 34,200 per kg on lack of buying support from industrial users and coin makers. (Read: Gold Slides to Two-Year Low on Weak Global Cues)

"The Asian market missed the action on Friday when US players were already attempting a break of $1,130, a major support level, and has pushed prices much lower today," ABN Amro analyst Georgette Boele said.

"Last week was an important week: you got Yellen, a three-month high in the dollar and good US economic data ... there is a chance that we see more downside in coming days."

Federal Reserve Chair Janet Yellen confirmed on Wednesday the central bank will likely raise interest rates this year if the US economy expands as expected.

More than 3 million lots traded on a key contract on the Shanghai Gold Exchange, compared to fewer than 27,000 lots on Friday, Reuters data showed. Before Monday, the volume for July had averaged at fewer than 30,000 lots.


Traders said it appeared that sellers had taken advantage of a low-liquidity environment, with Japanese markets shut for a public holiday, fuelling speculative selling.
"The break of the critical $1,130 support level now makes the technical picture look very weak," ANZ said. "Short-term supports sit at $1,085 and $1,050, while topside resistance at $1,130 looks pretty solid."
In wider markets, the dollar hit a three-month high against a basket of currencies, making dollar-priced gold more expensive for holders of other currencies.
China said on Friday its gold reserves were up 57 per cent at 1,658 tonnes at the end of June from the last time it adjusted its reserve figures more than six years ago.
"This implies stockpiling of around 100 tonnes per year, which is dramatically lower than market expectations," Citigroup said in a note.
Gold fell more than 1 per cent on Friday, pressured by increased bets on a Federal Reserve rate rise this year, which would increase the opportunity cost of holding the metal.
Palladium dropped as much as 3.4 per cent to its lowest since October 2012 at $593 an ounce.
Spot silver, the least hit among precious metals in Monday's slide, was off 0.4 per cent at $14.77 an ounce.