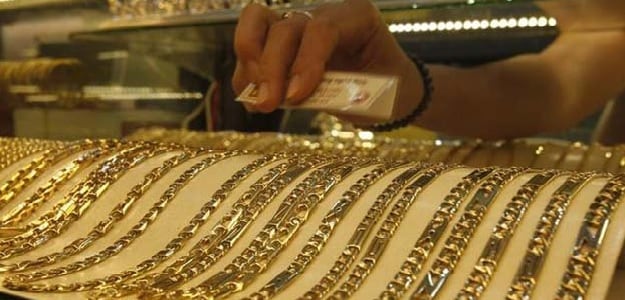 New Delhi
: Continuing their falling streak for the fourth straight day, gold prices plunged by Rs 160 to trade at an over two-month low of Rs 26,790 per 10 grams at the bullion market on Wednesday largely in tandem with a weakening global trend coupled with easing demand from jewellers.
Silver also dropped by Rs 550 to Rs 36,400 per kg on poor offtake by industrial units and coin makers.
Bullion traders said sentiment remained weak as gold dropped to one-week lows in global markets after US data bolstered speculation interest rates will rise this year and mounting optimism that Greece will avoid a default.
Gold in Singapore, which normally determine the price trend on the domestic front, retreated 0.2 per cent to $1,176.21 an ounce - the lowest since June 17. Silver also slid 0.1 per cent to $15.86 an ounce.
Besides, diversion of funds towards the surging equity weighed on the precious metal's prices, they said.
In the national capital, gold of 99.9 per cent and 99.5 per cent purity tumbled by Rs 160 each to Rs 26,790 and Rs 26,640 per 10 grams, respectively. The precious metal has now lost Rs 410 in four days.
Sovereign, however, remained flat at Rs 23,300 per piece of 8 grams.
Following gold, silver ready dropped by Rs 550 to Rs 36,400 per kg and weekly-based delivery by Rs 550 to Rs 36,110 per kg.
On the other hand, silver coins unaltered at Rs 54,000 for buying and Rs 55,000 for selling of 100 pieces.