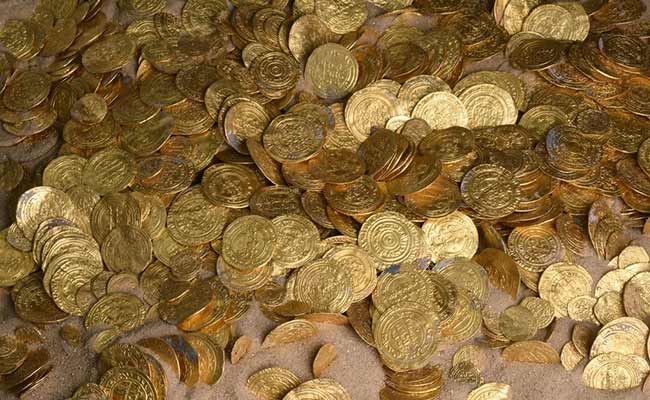 Singapore
: Gold jumped along with other safe haven assets on Monday after the Greece debt crisis took a turn for the worse over the weekend, with Athens looking more likely to default and exit the Eurozone.
Spot gold rose 0.6 per cent to $1,181.50 an ounce by 0343 GMT (9:13 a.m. in India), after hitting $1,186.91 earlier in the session - its highest in nearly a week.
US gold futures also jumped 1 per cent to a session high of $1,187.60, before paring some gains. Silver climbed about 1 per cent along with gold,
"Risk-off sentiment hit the market this morning following the news out of Greece over the weekend, sending gold higher on the open," said Sam Laughlin, a precious metals trader at MKS Group.
Bailout talks between the Greek leftwing government and foreign lenders broke down over the weekend and the European Central Bank froze vital funding support to Greece's banks, leaving Athens with little choice but to shut down the system to keep the banks from collapsing.
The failure to reach a deal with creditors leaves Greece set to default on 1.6 billion euros of loans from the International Monetary Fund (IMF) that fall due on Tuesday. Athens must repay billions of euros to the ECB in the coming months.
The impending default on the IMF loans leaves Greece sliding towards a euro exit and also carries broad implications for the global financial system.
Asian stock markets, US stock futures and the euro fell on Monday, sending investors rushing towards safe haven assets such as gold and the Japanese yen.
Elsewhere, US Commodity Futures Trading Commission data on Friday showed speculators upped a bullish bet in COMEX gold futures and options and switched to a net short position in silver in the week ended June 23.
SPDR Gold Trust, the world's largest gold-backed exchange-traded fund, said its holdings fell 0.25 per cent to 711.44 tonnes on Friday.
Gold could have further to go on the top level given the uncertainties surrounding Greece, but outflows from exchange-traded funds and soft physical demand could limit any upside, said a Singapore-based trader, adding that the $1,200 continued to be a crucial level.
© Thomson Reuters 2015