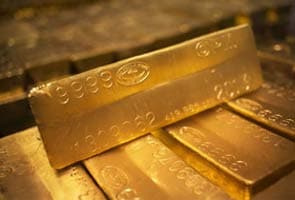 Singapore:
Gold added to small gains from the day before on Thursday, buoyed by risk-averse sentiment as weak global manufacturing data in the United States unnerved equity markets.
Fundamentals
* Spot gold had edged up 0.1 per cent to $1,215.02 an ounce by 0038 GMT. The metal gained 0.4 per cent on Wednesday after earlier falling towards a nine-month low.
* Stock markets worldwide closed out the first day of the fourth quarter on a weak note on Wednesday, weighed by disappointing manufacturing data from Europe and the United States.
* US stocks dropped more than 1 per cent on Wednesday as the first diagnosis of Ebola in a patient in the United States pressured shares of airlines and transportation companies.
* Gold is often seen as an alternative investment during times of uncertainty.
* Despite the recent gains, gold is still close to dropping below a key psychological level of $1,200 an ounce. The strength in the dollar has weighed heavily on gold and other precious metals.
* SPDR Gold Trust, the world's largest gold-backed exchange-traded fund and a good measure of investor sentiment, said its holdings fell 1.20 tonnes to 768.66 tonnes on Wednesday - the lowest since December 2008.
* ICAP, the world's biggest interdealer broker, will submit a proposal to the bullion market to replace the century-old global price benchmark for gold known as the "fix", the company told Reuters on Wednesday.
* Investors were also eyeing the outcome of the European Central Bank's policy meeting. It is expected to present details on Thursday of a new asset-buying plan with which it hopes to revive the flagging euro zone economy and see off the spectre of deflation.
Market News
* The safe-haven yen held onto solid gains early on Thursday after disappointing manufacturing surveys from around the globe triggered a run on risk, while the euro stayed defensive as a policy review by the European Central Bank loomed.
Copyright: Thomson Reuters 2014