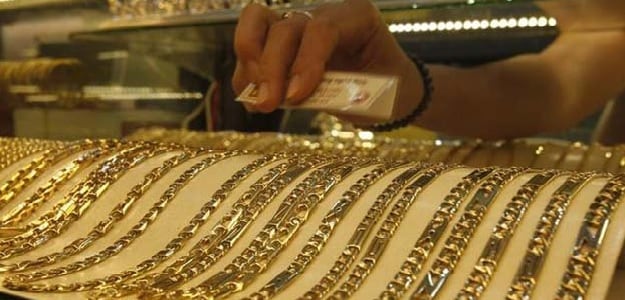 New Delhi: Rising for the second straight day, gold prices advanced by Rs 95 to Rs 27,980 per 10 grams at the bullion market on Saturday on continued buying by jewellers and retailers to meet wedding season demand amid a firming global trend.
Tracking gold, silver also surged by Rs 1,245 to Rs 39,145 per kg on increased offtake by industrial units and coin makers.
Bullion merchants said sustained buying by jewellers, driven by wedding season demand and a firming trend overseas where gold posted the biggest weekly gains in 18 months as turmoil in European currency markets spurred demand for the metal as a safe-haven, kept precious metals higher.
Gold in New York, which normally determines price trend on the domestic front, rose 1 per cent to $1,276.90 an ounce after reaching $1,282.40, the highest since September 2. Silver also gained 3.8 per cent to $17.75 an ounce, the biggest gain since December 9.
In the national capital, gold of 99.9 and 99.5 per cent purity were up by Rs 95 each to Rs 27,980 and Rs 27,780 per 10 grams respectively. It had gained Rs 565 on Friday.
Sovereign, however, held steady at Rs 23,900 per piece of 8 grams.
Silver ready recorded a significant rise of Rs 1,245 to Rs 39,145 per kg and weekly-based delivery by Rs 1,320 to Rs 39,160 per kg. Silver coins also jumped up by Rs 1,000 to Rs 63,000 for buying and Rs 64,000 for selling of 100 pieces.